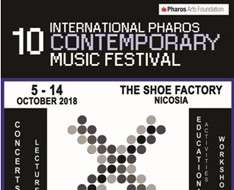 The International Pharos Contemporary Music Festival celebrates its 10th anniversary!!!
Pharos' "Contemporary" is the first festival of new music that was inaugurated in Cyprus, in 2009, and it has premiered numerous well-established masterpieces of the 20th century as well as works by the younger generation of leading composers from all over the world, ever since. The Festival is rooted in the Pharos Arts Foundation's deep commitment to music creativity and innovation. Before even the inauguration of the Festival, Pharos was the first exponent of contemporary music in Cyprus – for years, it was identifying important and hugely talented young composers from Cyprus and abroad before commissioning them to write new works, which were subsequently premiered in Nicosia by internationally renowned ensembles. Nowadays, the Festival is established as one of the most innovative annual events in Europe, and some of these composers will be featured in this year's edition, rejoicing Pharos' great contribution to music-making.

Organised between 5 and 14 October 2018 at The Shoe Factory in Lefkosia, the 10th International Pharos Contemporary Music Festival will celebrate its anniversary by bringing together, in Cyprus, some of the most iconic names on the international contemporary music scene: Ensemble Modern, Klangforum Wien, Pierre-Laurent Aimard and Tamara Stefanovich. The gathering of these music legends under one roof, in the span of just a few days, is a true historical milestone for the Cyprus culture.

Venue:
The Shoe Factory
304 Ermou Street
Lefkosia, Cyprus

Information & Tickets:
Information: Pharos Arts Foundation Tel. +357 22 663 871 / www.pharosartsfoundation.org
Box Office: www.pharosartsfoundation.org & Tel. +357 22 663 871 (Monday - Friday 10:00 - 15:00)

Under the artistic direction of prominent Cypriot composer Evis Sammoutis, the Festival will encompass an array of concerts, educational activities and interactive workshops. Contemporary music creation reflects the profundity of the modern-day man and human spirit and it is directly linked with many forms of visual and creative arts, and sciences. By giving voice to it, the 10th International Pharos Contemporary Music Festival is certain to be a glorious, and quite rare, experience.

SCHEDULE:
Friday 5 October 2018, 8:30pm
Concert: ENSEMBLE MODERN
Sunday 7 October 2018, 8:30pm
In Aria – An improvisation project for theremin and electronics with percussionist CLAUDIO BETTINELLI
Wednesday 10 October 2018, 6:00pm – 8:30pm
Draw your own music with UPISketch – An Interactive Music Workshop for adults and children
Thursday 11 October 2018, 7:30pm
Composers living in the Diaspora – A frank and open discussion with five of the Festival's featured composers who had to abandon their motherlands in order to pursue an international career in a foreign country, in the diaspora
Friday 12 October 2018, 8:30pm
Concert: KLANGFORUM WIEN
Sunday 14 October 2018, 8:30pm
Concert: Pierre-Laurent Aimard and Tamara Stefanovich

Please contact the Pharos Arts Foundation about the schedule of the Educational Activities, which will take place during the mornings.
From Friday, October 05, 2018
To Sunday, October 14, 2018

Nicosia

/

Lefkosia Municipality

,

Cyprus