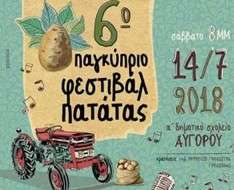 The Avgorou village invites you to the 6th Pancyprian Festival of Potato on the 14th of July 2018.

Location:
Avgorou 1st Primary School
Avgorou, Ammochostos District 5510, Cyprus

Information and reservations: +357 99 795 105, +357 99 452 194, +357 99 453 640.

The Organization Committee of the Pancyprian Potato Festival in cooperation with the Avgorou Community Board and the potato producers invites you to a Potato tasting feast, with main product the favorite Potato of the Red soil villages of Cyprus "Kokkinochoria"!

Fellow travelers to this effort, Corina and the Lays favorite potatoes, as well as CTO and many companies and groups directly related to the potato product!

Alternative cooking methods as well as innovative products with main ingredient the famous potato (soap, facial mask, etc.) will amaze you.

Saturday, July 14, 2018, 20:00

Famagusta

/

Avgorou

,

Cyprus