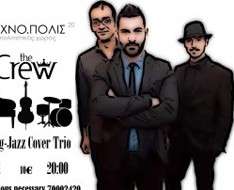 The music trio 'The Crew', already counting 2 years since their premiere, they keep presenting different approaches on well-known music pieces. Featuring Alexandros Tsangarides on piano and vocals, Christodoulos Dimitriou on double bass and Alex Sofokleous on percussion, the trio will present cover songs with a jazz-swing attitude, influenced by the decades of the fifties until today, on Wednesday, 28th of March 2018, at Technopolis20.

Venue:
Technopolis 20 Cultural Centre
18 Nikolaou Nikolaidi Avenue
Pafos 8010, Cyprus
Phone: 7000 2420
Website: www.technopolis20.com

Entrance: 10 Euro
Reservations are necessary at 7000 2420 (calls only).
Wednesday, March 28, 2018, 20:00 - 22:00

Paphos

/

Pafos Municipality

,

Cyprus