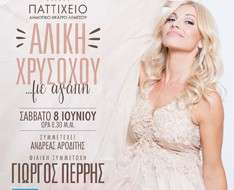 The great Cypriot Soprano Aliki Chrysochou will present songs that have been loved by the audience and by herself.

With her on the stage, very good friends / musicians and beloved artists such as Giorgos Perris and Andreas Aroditis.

Venue:
Pattihio MunicipalTheater
Agias Zonis 6
Lemesos 3027, Cyprus
Phone: +357 25 377 277
Website: www.pattihio.com.cy

Tickets: €18, €15
https://www.soldoutticketbox.com

The internationally acclaimed young soprano exploded onto the the global music scene in 2013 after her success in the 7th season of Britain's Got Talent. Her inspirational story combined with her angelic voice, Aliki , not only captivated the 4 judges, who praised her performance but following on from that the whole world. Even the strict music mogul, Simon Cowell was stunned and said 'You just have a natural talent Aliki...your time has come!'

Following her huge success on Britain's Got Talent, Aliki's fanbase and online exposure rocketed. With over 50 million total youtube video views-the BGT's first audition video alone reached 17,2 million- 19,000 Facebook followers, 3,500 twitter followers, 14,500 youtube subscribers, more than 50 international magazine covers, headlines, reports and multiple interviews. She has also been honoured with the title 'Global Honorary Ambassador' of the World Encephalitis Society with a very active and primary role into the society's global charity projects and in 2015 Aliki ran the Full London Marathon to raise money and awareness. In 2014 she was nominated for "Woman of the year" in the artist category for Madam Figaro magazine Awards. She has since been invited to sing in concerts around the world which have proved to be complete sell outs. Some of which are: 'Concert in the Park' singing for the British Troops June 2013,"Christmas Magic" in December 2013,"The Sound of Music" with the Cyprus Symphony Orchestra March 2014 and singing at the Cyprus Presidential Palace for the President of Cyprus last September 2014. Overall the British/ Greek Soprano has performed in concerts as a soloist in numerous countries around the world, including the USA, Canada, Mexico, Canary Islands, Greece, France and the U.K.

Year 2015 finds Aliki extremely busy with plenty of concerts lined up around the world but more importantly, the moment we've all been waiting for… the recording of her debut album. Preparations and recordings of the album have already begun.
Saturday, June 08, 2019, 20:30

Limassol

/

Lemesos Municipality

,

Cyprus