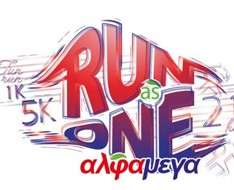 After last year's first successful event, the ALPHAMEGA Run As One race is evolving to include a Half Marathon race. The event will take place on Sunday 22 October 2017, starting and finishing at ALPHAMEGA Engomi, in Lefkosia. Moreover, ALPHAMEGA Run As One will include Personal and Corporate 5km races, as well as a 1km children's race, where adults may participate as well.

Venue:
ALPHAMEGA Hypermarket
Engomi, Lefkosia, Cyprus

ALPHAMEGA Run As One Race

The event is part of the "Child, Nutrition and Health" Corporate Social Responsibility Programme. The Half-Marathon will start at 8:30, while the 5km races will start at 11:00, followed by the 1km race.

"Through the event, ALPHAMEGA Hypermarkets aim to promote the importance of a correct, balanced diet and regular exercise for children. Children are the future adults, and it's very important that they are raised in a more healthy lifestyle than today's." explains Mr George Theodotou, Marketing Director of ALPHAMEGA Hypermarkets. "Last year's organisation was very successful, attracting hundreds of runners that supported the "Children, Nutrition and Health" programme. Thus, this year's event is upgraded with the Half- Marathon, while a Corporate Race is also added to the event", he adds.

Participation applications will soon be made available for online submission, through primoevents

"CHILD, NUTRITION AND HEALTH"
The Programme has been successfully running for ten months, in cooperation with the Cyprus Dietetic & Nutrition Association, and offers hundreds of children the opportunity to visit a member of the Association for free, and after having the necessary measurements taken, get a personalised balanced diet plan.

In the frame of the same programme, ALPHAMEGA Hypermarkets inform children and adults alike for the nutritional benefits and importance of fruit, as well as the benefits of a healthy breakfast, through breakfasts offered at schools of the primary education.
Sunday, October 22, 2017
Nicosia

/

Egkomi (lefkosias)

,

Cyprus