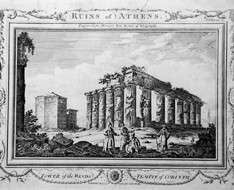 Periodic exhibition from the collection of the Engraving Museum Hambis Tsangaris.

Venue:
Hambis Printmaking Center (Museum)
Platanestiia, 3802 Lemesos, Cyprus

Opening hours: Wednesday - Sunday 10.00 - 13.00 and 16.00 - 18.00

Ιστοσελίδα: http://www.hambisprintmakingcenter.org.cy

The Hambis Museum, in the program of periodic thematic exhibitions with works of its collection, presents engravings and illustrated books and magazines about antiquities and landscapes of Hellenism. The exhibition is hosted at the Hambis Printmaking Museum in Platanestiia, from Saturday April 14th to Sunday 15th July. It is open from Wednesday to Sunday 10.00 - 13.00 and 16.00 - 18.00.

There are engravings that were created from the late 16th century to the 19th century in England, the Netherlands, France, Russia. There are also engravings of contemporary Greek and Cypriot artists.

From Saturday, April 14, 2018
To Sunday, July 15, 2018

Limassol

/

Platanisteia

,

Cyprus
Cultural / Art Exhibition