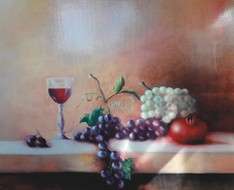 The artist Maria Pieridou invites you to her first solo exhibition "Fruit Series" on Friday 31 May 2019 at 20:00 in Larnaka.

Maria Pierides has graduated from the School of Fine Arts in Bulgaria, her birthplace, and she continues her education at Mr. Ptohopoulos' Art School, in Larnaka.

Venue:
Apothiki 79
81-83 saint Lazaros Street
6020 Larnaka, Cyprus

The inauguration will be done by the Mayor of Larnaka, Mr. Andreas Vyras.
Friday, May 31, 2019, 20:00

Larnaca

/

Larnaka Municipality

,

Cyprus
Cultural / Art Exhibition