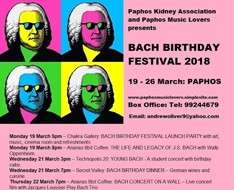 Paphos Kidney Association and Paphos Music Lovers presents Bach Birthday Festival 2018.

A charity music festival in aid of the Paphos Kidney Association with all proceeds going to the charity (Charity No.4578). For many years now, the Kidney Association has been supporting the Renal Unit in Pafos General Hospital by raising funds to purchase urgently required equipment needed in the ward. In the past three years, nine new dialysis machines have been installed including two specially adapted to treat children. However, now having over seventy patients and only fourteen beds the necessity has arisen for a larger unit to be built and funds are needed to assist with supplying this unit with extra equipment. To keep updated with further events please like our Facebook page, Paphos Kidney Association.

Paphos Music Lovers

Programme of the Festival:

Monday 19 March 5pm – Chakra Gallery: BACH BIRTHDAY FESTIVAL LAUNCH PARTY with art, music, cinema room and refreshments.

Monday 19 March 8pm – Ananas 8bit Coffee: THE LIFE AND LEGACY OF J.S. BACH with Wally Oppenheim.

Wednesday 21 March 3pm – Technopolis 20: YOUNG BACH - A student concert with birthday cake.

Wednesday 21 March 7pm – Secret Valley: BACH BIRTHDAY DINNER – German wines and cuisine.

Thursday 22 March 7pm – Ananas 8bit Coffee: BACH CONCERT ON A WALL – Live concert film with Jacques Loussier Play Bach Trio.

Friday 23 March 8pm – Stage One Theatre: JS BACH: GOLDBERG VARIATIONS with the Nisos String Trio.

Saturday 24 March 7pm – Ananas 8bit Coffee: BACH CONCERT ON A WALL – Live concert film of JS Bach: Brandenburg Concertos 1 – 6 with The Orchestra Mozart Bologna, Claudio Abbado (conductor).

Sunday 25 March 6pm – Technopolis 20: NATALIA & FRIENDS PLAY BACH – Natalia Lezedova, Tatiana Stupak, Nina Ioannidou (piano), Robert Grod (cello), Eva Stavrou (flute), Andreas Constantinou (violin), Hristo Ovcharov (double bass).

Monday 26 March 6pm – UKCA Club: CYPRUS BRASS BAND PLAYS BACH – The programme will include brass band versions of some of Bach's most beautiful melodies including Jesu, Joy of Man's Desiring, Sheep May Safely Graze, and Arioso from Harpsichord Concerto No.5.

From Monday, March 19, 2018
To Monday, March 26, 2018

Paphos

/

Pafos Municipality

,

Cyprus