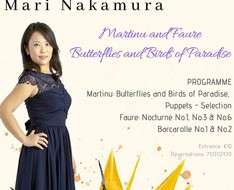 The pianist Mari Nakamura will present a beautiful selection of works on the 22nd of May, 20:00, at Technopolis 20. The concert, an intimate performance of her new album, includes less well known but delightful works by the Czech composer Bohuslav Martinů and many favourites from Gabriel Fauré's beautiful piano works.

Programme:
Martinů: Butterflies and Birds of Paradise, Puppets
Fauré: Nocturnes, Barcarolles

Facebook

Venue:
Technopolis 20 Cultural Centre
18 Nikolaou Nikolaidi Avenue
Pafos 8010, Cyprus
Phone: 7000 2420
Website: www.technopolis20.com

Entrance: €10
Reservations are necessary at 7000 2420 (calls only).
Sponsor: Deputy Ministry of Tourism

A few words about the pianist:
Mari Nakamura, born in Japan, began playing the piano at the age of four. Soon she discovered her passion for classical music as well as pop music. Mari professionalized her talent by taking excursions into different musical genres. For more than seven years she devoted her interest to string instruments playing violin and cello. The piano, however, remained her principal instrument.
After finishing the Music High School in Japan, she began studying Music in Germany with the major "Classical Piano", which she mastered with great success. Mari Nakamura succeeds in exploring and understanding the essence of musical compositions through outstanding excellence in mastery of the piano coupled with an outstanding ear. With great devotion and dedicated effort, Mari exploits all the possibilities of the instrument. She has the ability to fill the room with expressive and rich sound to inspire and amaze the audience.
Today Mari plays classical concerts, as a soloist and also in duet - piano four-hands, flute and piano - works as an arranger and undertakes musical excursions into the world of jazz and experimental music. In 2018 DJ Kana Mechaniker released the album Techno-Records in collaboration with Mari. Her new album "Martinu and Faure" will be released in March 2019. Mari Nakamura is living in Berlin and performing worldwide.
Wednesday, May 22, 2019, 20:00 - 22:00

Paphos

/

Pafos Municipality

,

Cyprus