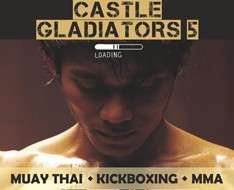 For the fifth year in a row Paphos Thai Boxing & MMA Fight Club presents, Castle Gladiators 5, on 26th of July in Atlántida beach at Geroskipou, Pafos.

Venue:
Atlantida Beach
Geroskipou, Pafos District, Cyprus

Info about the event and tickets can be found through the official page ( Paphos Thai Boxing & MMA Fight Club) and through numbers +357 99 461 343, +357 99 440 952.

This year 6 countries will be participating such as Cyprus, Greece, U.K. , Israel, Russia and Bulgaria. This amazing show will bring among the best Muay Thai, Kickboxing and MMA athletes of all over Cyprus against foreigners, plus WKF European & national titles.

Press conference, on 25th , will be held in Almyra hotel in Kato Pafos at 17:00 and it's open to the public!

We would like to inform also that fights will be live through B1BTV channel in Facebook!

Friday, July 26, 2019
Paphos

/

Geroskipou

,

Cyprus