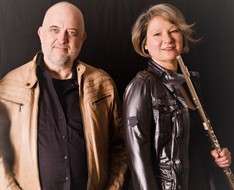 The renowned Greek-Austrian flutist Ria Georgiadis and Danish pianist Sven Birch will present a unique concert with less-known but very enticing chamber works for flute and piano. They will perform, for the first time in Cyprus, works by F.X. Mozart, Jungwirth, Blahetka and Brahms, as well as two works by Koechlin and Dubois for flute, alto sax and piano, with Yiannis Miralis on the alto saxophone.

Venue:
Technopolis 20 Cultural Centre
18 Nikolaou Nikolaidi Avenue
Pafos 8010, Cyprus
Phone: 7000 2420
Website: www.technopolis20.com

Entrance: €10
Reservations are necessary at 7000 2420 (calls only).

Sponsor: Deputy Ministry of Tourism

A few words about the musicians:
Ria Georgiadis (Flute) : Greek-Austrian flutist Ria Georgiadis is a versatile musician with a broad repertoire, showing a particular interest in promoting new compositions. Critics praise her "full, evocatively lucid and flexible sound" and "exemplary technique". As a soloist and chamber musician she has a busy schedule performing throughout Europe, America, Asia.
Apart from a number of scholarships and prizes, her artistic background also features various recordings for the Greek and Austrian Radio. Together with her solo performing work, she has been a founding member of the quintet fff, the Trio "Les Dames Déshéritées", and has participated in the contemporary music ensemble eWave, founded by Wil Offermans. She plays in a duo together with pianist Sven Birch and participates in various orchestral ensembles.
Born in Thessaloniki, Ria Georgiadis received her musical education in Thessaloniki (New Conservatory), Linz, Austria – Anton Bruckner University, and Germany, at the University of Music Freiburg, (class Robert Aitken). Furthermore she attended postgraduate studies in "Breathing and Voice Education for Windplayers" with Dr. Bernhard Riebl at the University of Music and Performing Arts in Vienna. Additional studies with Karlheinz Stockhausen - Kathinka Pasveer and Janos Balint (Budapest) have been of formative influence to her artistic development. Master Classes with distinguished flutists (J.P.Rampal, Ph. Boucly, P.Y.Artaud, I. Matuz, R. Fabbriciani, R. Dick, T. Wye, W. Bennett, M. Fahlenbock, A. Lieberknecht, K. Kaiser) have been a constant source of inspiration.
A central pillar of her artistic output is the creative cooperation with young composers. A great number of compositions for the entire flute family have been dedicated to and premiered by her. The recently released Solo- Album with the label Irida-Classical, containing works dedicated to her was embraced with bravorus reviews.
A special field of her interest is the application and crosslinking of knowledge and findings gained in various fields of science in order to permeate and promote musical and music-related educational contents. She is a relaxation pedagogue focusing on relaxation and differentiated tension techniques for musicians. Currently she is working on a research project examining the effects of Mental Training on Muscle Tone Economy in flute playing.
Ria Georgiadis is teaching flute at the Department of Music Studies of the Ionian University, Greece and is a sought after pedagogue teaching master classes and participating in juries.
Sven Birch (Piano): Sven Birch is a much asked for musician with a broad repertoire from Bach to contemporary music. He is a soloist, chamber music player, accompanist and conductor.
Concert tours took him to Norway, Sweden, Denmark, Iceland, the Faeroe Islands, Wales, Ireland, Germany, Belgium, France, Italy, Spain, Poland, Russia, Lithuania, Austria, Switzerland, Hungary, the Czech Republic, Greece, Cyprus, Slovakia, Serbia, Turkey, the USA, Mexico, Iran, Ιndia, China, Brazil and Japan.
Birch was born in Denmark. He received his pianistic education in Aarhus, where he obtained the soloist diploma. Several scholarships enabled him to study in Vienna with Prof. Alexander Jenner. Masterclasses with distinguished pianists Tatjana Nicolajewa, Conrad Hansen, John Lill, Leonid Brumberg, Peter Feuchtwanger.
Birch is a member of the `George Crumb Trio´ Linz, and the `Ensemble Nord´ Copenhagen.
Sven Birch is teaching piano at the Anton Bruckner University of Music and is head of the keyboard Institute. He has also taught at the Royal Conservatory Copenhagen, and the Mozarteum Salzburg.
He is frequently invited to give Masterclasses and has made several CD-, TV-and Radio recordings (BBC, NDR, WDR, DR, NRK, SR, ORF, Magyar Televízió, Radio Island, RKB (Japan), and TV Globo (Brazil).
Moreover he is a composer and editor of a series of pedagogical piano music at `Universal Edition Wien´ and `Zimmermann Frankfurt´.
He studied conducting with GMD Janos Fürst and has been his assistant at the Aalborg Symfonieorkester (DK). Birch has been the artistic director of various ensembles such as the Chamber Orchestra `Danube 2135´, the Ensemble `Lézard aux Plumes´ and the Ensemble 4222 and is conducting numerous concerts and directing various musical and interdisciplinary projects.

Dr. Yiannis Miralis is Associate Professor of Music Education and Saxophone at European University Cyprus. He holds degrees from Michigan State University (PhD), Bowling Green State University (MM) and Lawrence University (BM), where he was a Fulbright scholar.
He was a founding member of the Cyprus Youth Symphony Orchestra. As the first Cypriot classical saxophonist he has performed with the Cyprus Symphony Orchestra and the Ensemble Philharmonia and has given chamber music recitals in Cyprus, Greece, Italy, Spain, Switzerland, Serbia, Germany, Sweden, Netherlands, Lebanon, Canada and the USA. He is founding member of the Transcontinental Saxophone Quartet with which they won various chamber music competitions in the USA. The quartet appeared as soloist with the Royal Belgian Air Force Band, the Fargo-Moorhead Symphony Orchestra and the Jackson Symphony Orchestra, while their CD "Mountain Roads" has received positive reviews. He is also founding member of the Mediterranean Trio with which they performed in Munich, Bonn, Berlin, Amsterdam and Nicosia.
He has taught at the University of Cyprus and the University of Windsor and he served as assistant professor at the Lionel Hampton School of Music at the University of Idaho. He is founding member of the Greek and Cypriots Saxophone Associations, board member of the European Chamber Music Teachers' Association (ECMTA) and chair of the Forum for Instrumental and Vocal Teaching of ISME.
Friday, May 17, 2019, 20:00

Paphos

/

Pafos Municipality

,

Cyprus