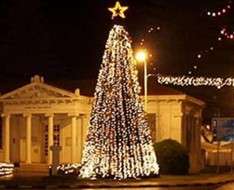 Programme of Christmas events in Pafos:

Friday, 8 December 2017
Mayor of Pafos, Phedonas Phedonos will switch on our brand new Christmas lights at Kennedy Square at 17:00 on Friday !

Cypriot singer Constantinos Christoforou will perform Christmas Carols and Father Christmas, along with his sleigh and elf will make an entrance. He will be accompanied by the 'little drummers' and dancers from the Dance School Koula Lanta, performing the choreography "The Christmas Fairy-tale" by Charles Dickens.
The Georgia Christos Children's Choir of Modern Music Academy and the philharmonic orchestra of the Μunicipality of Pafos will also provide entertainment.

The square will be decorated for the festive season with wooden Christmas houses, serving hot drinks, wine, chestnuts, snacks and hot dogs to purchase.

Saturday, 16 December 2017
The ever popular Christmas Carols by the Cyprus Police force band will take place at Makarios Avenue at 11.00 until 12 noon. Also participating is Aspire British School Choir and music will be provided by a DJ.

The Paphos Aphrodite Rotary Club will offer a gluehwein event from midday onwards at Kennedy square and at 15:00, there will be fairy-tale reading and puppet show at the municipal library.

Sunday, 17 December 2017
The next day the Christmas 'Merry-thon' will take place at Kennedy Square at 10:00 and will include the Santa Claus march, the first 400 participants will be given free Santa hats and at Makarios Avenue from 11.00 the 'Love Feast' offers entertainment, activities for kids and a Christmas Bazar with charity stalls.

Friday, 22 December 2017
'Christmas in the commercial centre' gets underway at 11:00 with a DJ and various children's activities.

Saturday, 23 December 2017
The annual celebration of the Municipality of Pafos will take place in the commercial centre and Kennedy Square from 11:00 to 17:00. Music, songs and dance by Laografikos Omilos 'Ktima', will be followed by a performance by the Paphos municipality Conservatory and all sorts of activities for children.
Hot drinks and snacks will also be available.

Sunday, 24 December 2017
'Christmas melodies' by the Pafos Municipality band will take place at Kennedy square and the sea front at 16:30 and 17:00 respectively.

Wednesday, 27 December 2017
Traditional Christmas customs take place at the commercial centre in the old town from 11:00. Wine and Christmas delicacies will be on offer and there will be a fairy-tale reading at the municipal library by 'Learning Attitude'.

Thursday, 28 December 2017
Christmas melodies will be performed by the Paphos Philharmonic orchestra at Kennedy Square from 11:00 and there will be entertainment for children.
Happy Christmas! 
From Friday, December 08, 2017
To Thursday, December 28, 2017

Paphos

/

Pafos Municipality

,

Cyprus