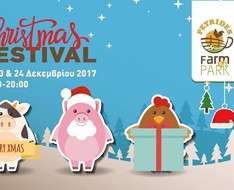 The Christmas village at Petrides Farm Park awaits for you on 22, 23 & 24 December from 09:00 in the morning until 20:00 in the evening to experience a super enchanting Christmas experience!?☃

Location:
Petrides Farm Park
Margi, 2647 Lefkosia, Cyprus

Facebook

In the area there will be many activities and games to entertain young and old, magician, music show, inflatables, face painting & balloons and much more - and maybe something you never had the chance to do - donkey & pony riding.?

In our company, apart from our adorable farm animals, we will also have Mickey & Minnie! ?

Santa Claus will be on our farm to offer gifts to all our little guests, before his departure for his big Christmas trip. ??

Food, drinks and sweets will be on site to keep you happy! ??

For more information: +357 99 411 311, +357 22 525 255

We are waiting for you! ?
From Friday, December 22, 2017 -  09:00
To Sunday, December 24, 2017 - 20:00