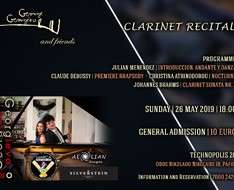 The George Georgiou and Friends concert series present their third and final concert for the 2019 season at Technopolis 20 in Pafos, on Sunday, 26th of May 2019, at 18:00. George Georgiou (clarinet) and Gergana Georgieva (piano) will perform works by Menendez, Debussy, Brahms and Athinodorou.

George Georgiou and Friends is a new concert series under the artistic direction of clarinetist George Georgiou. The series aims to provide high level concerts as well as specific masterclasses in our instruments featured at the series. The series is based at the Technopolis20 Cultural Center and lasts from January until May.

Venue:
Technopolis 20 Cultural Centre
18 Nikolaou Nikolaidi Avenue
Pafos 8010, Cyprus
Phone: 7000 2420
Website: www.technopolis20.com

Entrance: €10
Reservations are necessary at 70002420 (calls only).
Sponsor: Deputy Ministry of Tourism

Programme:
Julian Menendez: Introduccion, Andante Y Danza for clarinet and piano
Claude Debussy: Premiere Rhapsody for clarinet and piano
Christina Athinodorou: Nocturne for solo clarinet
Johannes Brahms: Clarinet Sonata no 2 in E flat Major

A few words about the musicians:
George Georgiou (piano): Hailed for his energetic and inspirational performances, the Cypriot clarinetist George Georgiou enjoys a career as a classical and contemporary clarinetist. He appeared in many solo concerts and recitals in Europe, Middle East and USA. He collaborated with some prominent musicians such as the legendary cellist Rohan de Saram, the Prazak Quartet, the Apple Hill String Quartet, the Chilingirian String Quartet, the violinist Movses Pogossian and he appeared as a soloist with the Commandaria Orchestra and Moscow Virtuosi under the baton of Vladimir Spivakov.
In his research for new repertoire, George started commissioning works for clarinet and so far, he collaborated with the most dominant composers from Cyprus and abroad. He premiered several works featuring the clarinet with most of them being dedicated to him.
He is a member of Georgiou Georgieva Duo, Lyrical Noise Ensemble, Evohe Wind Quintet, Chronos Contemporary Music Ensemble as well as musician in residence at the Avaton Contemporary Music Festival (Cyprus). He holds the position of clarinet professor at the University of Nicosia. He is the artistic director of Music at the Museum Concert Series and Georgiou and Friends concert Series as well as the founder of Cyprus Clarinet Studio.
George is a graduate from City University, London, where he studied clarinet with Julian Farrell and Joy Farel at the Guildhall School of Music and Drama. He is also a MBA graduate from the Neapolis University Paphos, Cyprus and a member of Mensa Cyprus.
His busy profile gained him an international recognition and he became a Fratelli Patricola Clarinet Artist, a Silverstein Ligature Artist and a Marca Reeds Artist. He records for Hook Records. He was recently appointed as the Cyprus Chair of the International Clarinet Association. Future engagements include recitals in Cyprus, London, Canary Islands and USA.

Gergana Georgieva, piano: Gergana Georgieva was born in the city of Burgas in Bulgaria. At the age of six she took piano lessons and music theory with Isidora Silvestrova and at the age of ten, she was accepted at the Pancho Vladigerov music school in Burgas. During her studies, she was awarded at various seminars, concerts and competitions, including the 16th Competition for performance of Bulgarian professional music "Varban Varbanov" where she won 1st prise. In 2002 she performed Prokofiev's 1st concert for piano and orchestra, accompanied by Burgas Philharmonic Orchestra, conducted by Ivan Kojuharov. She continued her studies at the National Music Academy of Sofia "Pancho Vladigerov", attending piano classes with Stella Dimitrova – Maistorova and Ilia Chernaev. During her studies in the Academy, she participated inconcerts, performing Mozart, Beethoven and Schumann concertos, accompanied by Sofia's Academic Symphony Orchestra. She participated in national competitions of Chamber Music with a piano trio, winning 2nd prize for performing a Bulgarian music piece and 1st prize for performing Austrian music pieces. She participated in the Contemporary Music Festival "Pianissimo", where she performed preludes and fugues by Shostakovich and Shchedrin. Gergana has attended various master classes with distinguished pianists, such as Paolo Police, Cyprien Katsaris etc. Since 2008 she has lived and worked in Cyprus, where she continues to participate in concerts and presentations, in collaboration with Cypriot and foreign artists, as well as with the Cyprus Symphony Orchestra. She is member of the Georgiou – Georgieva Duo and piano faculty at the Papadakion Music School in Lemesos.
Sunday, May 26, 2019, 18:00

Paphos

/

Pafos Municipality

,

Cyprus