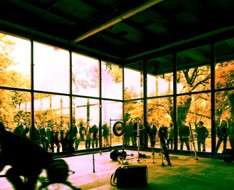 The 10th International Pharos Contemporary Music Festival welcomes for the first time in Cyprus the celebrated Klangforum Wien. Universally regarded as one of the most exciting advocates of contemporary music in the world, Klangforum will present a unique concert, drawing on Cyprus' significant heritage and location to endorse new music as a non-verbal vehicle between performers, composers and audience, who are all 'deriving' from diverse cultural backgrounds. The concert, which will take place on Friday 12 October 2018, at The Shoe Factory, 8:30pm, will include the Cyprus premiere of masterpieces by Pierre Boulez, Claude Vivier, Helmut Lachenmann, Beat Furrer and Franco Donatoni, as well as the world premiere of three works commissioned by the Festival from Evis Sammoutis, Thomas Simaku and Jorge Grossmann.

Venue:
The Shoe Factory
304 Ermou Street
Lefkosia, Cyprus

Information & Tickets:
Tickets: 15 Εuro / 10 Euro Concessions & members of the Pharos Arts Foundation
Information: Pharos Arts Foundation Tel. +357 22 663 871 / www.pharosartsfoundation.org
Box Office: www.pharosartsfoundation.org & Tel. +357 22 663 871 (Monday - Friday 10:00 - 15:00)

KLANGFORUM WIEN

Ever since its first concert, under the baton of its founder Beat Furrer at the Palais Liechtenstein, Klangforum Wien has written musical history. Founded in 1985, the ensemble has premiered roughly 500 new pieces by leading composers from all over the world, giving a voice to the notes for the first time. It could – if given to introspection – look back on a discography of over 70 CDs, a series of honours and prizes and around 2000 appearances in the most important concert venues and opera houses in Europe, the Americas and Japan, renowned festivals as well as innovative initiatives for the youth.

Over the years, Klangforum Wien has developed strong artistic links with outstanding composers, conductors, soloists and directors. These have been influential in forming Klangforum's profile, just as the ensemble has played an important part in forming and supporting the shape of their endeavours. During the last few years, individual members and the ensemble as a whole have made increasing efforts to pass on special techniques and forms of musical expression to a new generation of instrumentalists and composers. Since 2009, owing to a teaching assignment at the University of Performing Arts Graz, Klangforum Wien as a whole could style itself "professor".

The focus of all Klangforum's musicians lies in the constantly redefined artistic will of a collective for which music, finally, is an expression of their ethos and the awareness of their own share of responsibility for the present and future. And just as in their art, Klangforum Wien itself is nothing but a force, barely disguised by its metier, to improve the world. The moment they step onto the podium, the musicians know that only one thing counts: everything. Eros and the absoluteness of this conviction are at the root of the inimitable quality of their concerts.
Friday, October 12, 2018, 20:30

Nicosia

/

Lefkosia Municipality

,

Cyprus