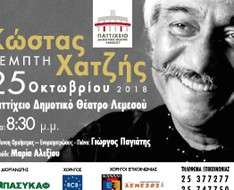 A great artist with a broad appeal, a popular troubadour with the full meaning of the term, Costas Hadjis stamped an entire era, faithfully serving song for more than four decades. With that particular voice, he manages to communicate with his audience in a unique way.

Costas Hadjis is coming at the Pattichion Municipal Theater in Lemesos, for the benefit of PASYKAF and he will as always travel his audience with his guitar and with his expressive voice, through his own emblematic songs.

Costas Hadjis is a special case in the history of Greek singing. He was essentially the first to sing ballads of social content. He will present a unique musical journey through the lyricism and sensitivity of the lyrics and music of his timeless songs.

Venue:
Pattihio MunicipalTheater
Agias Zonis 6
Lemesos 3027, Cyprus
Phone: +357 25 377 277
Website: www.pattihio.com.cy

Tickets: 20 Euro

Information and reservations: +357 25 747 750.
Thursday, October 25, 2018, 20:30 - 23:30

Limassol

/

Lemesos Municipality

,

Cyprus