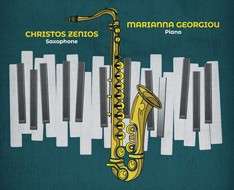 The duet Christos Zenios (saxophone) and Marianna Georgiou (piano), present their third concert for piano and saxophone at Technopolis 20, on Friday, 15th of February 2019, at 20:00.

The programme will include different dances from France and Argentina with works by Gabriel Grovlez, Pierre Max Dubois, Jean Francaix and Astor Piazzolla.

Venue:
Technopolis 20 Cultural Centre
18 Nikolaou Nikolaidi Avenue
Pafos 8010, Cyprus
Phone: 7000 2420
Website: www.technopolis20.com

Entrance: €10
Reservations are necessary at 7000 2420.

A few words about the musicians:
Christos Zenios was born in 1991, in Strovolos, Nicosia. At the age of 6 he started accordion lessons and at the age of 16 he attained a Diploma in Accordion from "Thales" Music School of Greece with Distinction. At the age of 12 he started piano lessons and a few years later he started saxophone lessons. During his army service, he was a member of the Military Marching Band. He has a BA in Music (Popular Music and Recording) with First Class Honours from the University of Salford, Manchester specialising in composition and saxophone performance. He has an MA in Music Performance with Distinction, specialising in saxophone, during which he enrolled in music psychology and ethnomusicology classes, among others. He has been a member and director of several ensembles, (sax quarters and choirs, jazz quartets, wind ensembles, contemporary music groups and more). He took part in concerts in Cyprus and the UK (Manchester Art Gallery Ensemble, Tempo a Tiempo, Chorlton Arts Festival and Royal Exchange Theatre in Manchester, Salford Sonic Fusion Festival etc.) Since September 2016 he has been working as a saxophone teacher in the Music Schools of Paphos and Nicosia.

Marianna Georgiou was born in 1993 in Paphos, Cyprus. She took her first piano lessons at the age of five and was classically trained for twelve years under the supervision of the Bulgarian tutor, Ivelina Ruseva. She attained her first Soloist Piano Diploma (ATCL) at the age of seventeen. She also took classical guitar lessons and passed her Grade 8 classical singing exams (ABRSM) with distinction. In 2011, she began her academic career at the University of Nottingham under the supervision of Brenda May and achieved a scholarship and a First-Class Honours for the Bachelor's degree based on Piano Performance. In 2015, she attained her Master's degree in Piano Performance and Performance Practices from the University of Nottingham. During her studies, she was part of various orchestral ensembles (The University of Nottingham Symphony Orchestra, the chamber music ensemble, accompanist of vocal groups and the 20th century ensemble). She has taken part in several masterclasses and concerts around UK and Cyprus (Masterclass - Janina Fiaklowska/Clare Hammond, Derby Arts festival -awarded the second prize-, Pre-Concert artist at the Royal Albert Hall of Nottingham for Czech Philarmonic). In her most recent years, Marianna has performed as a soloist and as part of ensembles in concerts and festivals around Cyprus and from September 2016, has taught piano at the Music Schools of Pafos.
Friday, February 15, 2019, 20:00

Paphos

/

Pafos Municipality

,

Cyprus