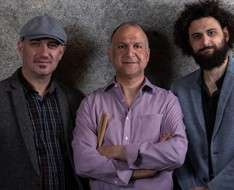 Technopolis 20 welcomes the summer and its garden summer jazz music concert series with the Ioannis Vafeas Trio feat Dimitris Papadopoulos, on Sunday, 9th of June, at 20:30.

Venue:
Technopolis 20 Cultural Centre
18 Nikolaou Nikolaidi Avenue
Pafos 8010, Cyprus
Phone: 7000 2420
Website: www.technopolis20.com

Entrance: €10

Reservations are necessary at 70002420 (calls only).

Sponsor: Deputy Ministry of Tourism

Three important musicians of the Cyprus Jazz Scene, the bassist Michael Messios, the pianist Christos Yerolatsitis and the drummer Ioannis Vafeas unite forces to form Ioannis Vafeas Trio.
Their aspiration is to add- each one from his artistic point of view-their personality and talent by bringing sound of the original face of jazz music today.

Vafeas and Messios have a long background together characterized by superb musicianship and creativity. Their common understanding and connection – on and off the stage – enables them to easily interact and bring their enthusiasm to their audience. The young and talented jazz pianist Christos Yerolatsitis who just returned to Cyprus from the Netherlands, completes the trio with his talent and energy.

The three artists have been performing at important festivals and concert halls in their homeland and around the world for many years.

This time, the trio meets the Greek trumpet soloist Dimitris Papadopoulos on stage and they are promising an exciting, interesting and full of energy and talent night. Dimitris Papadopoulos is a member of the Athens Big Band and one of the most active members of the Greek Jazz Scene.

A few words about the musicians:
Ioannis Vafeas is a professional drummer and educator. He studied Jazz music at the Berklee College of Music in Boston, MA and did his master's degree in Jazz Studies at the Boston Conservatory.
The years that followed found Ioannis busy in the music industry performing, recording and teaching music. He performs regularly in major festivals, concert halls and prestigious jazz clubs all over the world. Vafeas attended festivals and Venues in Germany, Poland, England, Lebanon, Greece, Kuwait, Italy, the U.S, Serbia and shared the stage with great artists and Symphony Orchestras. He has numerous collaborations in cd's, recordings and theatre productions.
Since 2002 Vafeas is teaching Music in public schools. He's been teaching Jazz Music at private universities in Cyprus since 2009. His credits also include drum seminars on soiling and brush playing in various universities and music schools.
In April 2017 he released his first album entitled "Bridge of Locks" with the IOANNOU/VAFEAS quartet.
He is the Artistic Director of the non-profit organization A. VAFEA JAZZ Projects.
He is endorsing Zildjian Cymbals since 2009.
www.ioannisvafeas.com

Michael Messios (Double bassist/Composer/Educator) attended the Berklee College of Music in Boston MA with a scholarship. He studied music composition, and jazz performance.
His return in Cyprus found him busy in the music industry as a member in various ensembles. The Petsteppers, Charis Ioannou Trio, Cyprus big band, Tassos Stylianou Trio, where he performs and composes.
He has participated in major Jazz Festivals like the Krakow Jazz Festival in Bologna, the Kuwait Jazz Festival, Mitrovica Jazz Festival in Serbia, the Crete Jazz Festival and played in prestigious jazz clubs like the VORTEX in London.
In 2013 he created his own band with the name "Michael Messios Symmetry Band" which performs his compositions only. His music is influenced by Contemporary and traditional Jazz and distinguished for its strong melody, harmony, complicated rhythms and motives.
Messios is an endorsing artist of the "ASHDOWN AMPS".
https://www.youtube.com/channel/UCevNgSXnk0BWFEyozFx3pzw

Christos Yerolatsitis is a Cypriot pianist, keyboardist and composer. With an interest in various music genres, Christos's music can be characterised as colourful, intuitive and diverse.
Christos moved to The Netherlands in 2008 where he lived for 9 years. Soon after his arrival he got into the Dutch jazz scene and performed all around the country with well-known artists, such as Benjamin Herman, John Ruocco, Simon Rigter, Ben van den Dungen, Ben Van Gelder and others.
In 2016 he appeared in the biggest theatres of the country with the "Eef van Breen Group" in cooperation with the extremely successful theatre production "Borgen".
In 2017 he moved to Mumbai where he got employed as the head of the Piano department of the True School of Music, one of India's biggest music schools. During his stay in India, Christos has performed with many bands in music festivals and jazz clubs and shared the stage with names such as Ranjit Barot (John Maclaughlin's drummer) and Erik Truffaz (trumpet) as well as Indian Carnatic musicians like Sabir Khan (Indian Sarangi player) and Bangalore Amrit (Indian Khanjira).
Christos is currently based in Cyprus working with various International bands as a leader and a sideman.
https://trueschool.in/people/christos-yerolatsitis-copy/

Dimitris Papadopoulos is a fabulous Greek trumpet soloist. He is a member of the Athens Big Band and one of the most active members of the Greek Jazz Scene.
He graduated from the Athens Conservatory where he's been teaching Jazz Trumpet since 2013. He counts numerous and very important collaborations with jazz musicians all over the world and participated at many recordings covering all the genres of Jazz.
Some of his collaborations in Greece are with Dimitris Kalantzis, Sami Amiris, Takis Paterelis, Vasilis Xenopoulos, Tony Lakatos, Dimos Dimitriadis, Giannis Apatriantafyllou, Giorgos Trantalidis, Nikos Kapilidis, Love Affair Big Band, Latin All Stars Del Palenque, Bellevue Cadillac, Kostas Konstantinou, Athens Jazz Legacy Quintet and many more.
Sunday, June 09, 2019, 20:30

Paphos

/

Pafos Municipality

,

Cyprus