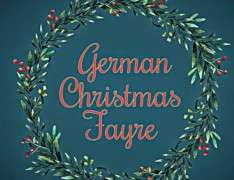 Τhe Cypriot-German Cultural Association organizes the traditional German Christmas Fayre on Sunday, 1st December 2019 between 1 - 8 p.m. This year the event will take place at the Municipal Multipurpose Centre of Nicosia, 40 Nikiforou Foka Avenue (next to the Famagusta Gate).

Traditional Christmas treats like Lebkuchen and Stollen brought directly from Germany will be available at the event at affordable prices. Visitors will also find a huge variety of special, handmade gifts and traditional German Christmas ornaments.

Accompanied by Christmas music from the Windcraft Band, everyone is invited to enjoy German sausages, tasty waffles, the well-known Glühwein (mulled wine), different kinds of German beer and many other delicacies that will be offered by different suppliers. Our young visitors will have the chance to create wooden handicrafts and be photographed with the Santa Claus.

The annual German Christmas Fayre is a charity event and part of the programme of the Weeks of the German Language / Wochen der deutschen Sprache.

Free entrance!   
LOCATION
LEFKOSIA
LEFKOSIA MUNICIPALITY
Nicosia

/

Lefkosia Municipality

,

Cyprus