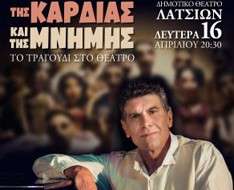 The song in the theater.

A musical performance with Giannis Bezos interpreting songs that were written for the theater.

The theatrical performance has the privilege of creating a whole world in front of our eyes. At the end of the show comes the oblivion. There are moments in our memory that have impressed us and other more important ones that nest in our hearts. These have moved us. And they follow us.

So let's bring them back all together and sing, not to remenber the past, but to realise that we are well armed for a hopeful future.

Song: Giannis Besos

Musicians:
Yannis Papazahariakis - Orchestration, Guitar
Konstantinos Chatziordanou - Accordion
Michalis Porphyris - Cello
Thimios Papadopoulos - wind instruments

Venue:
Pattihio MunicipalTheater
Agias Zonis 6
Lemesos 3027, Cyprus
Phone: +357 25 377 277
Website: www.pattihio.com.cy
Bezos
Tickets: 20 Euro
www.soldoutticketbox.com
SoEasy Kiosks.

Tuesday, April 17, 2018, 20:30

Limassol

/

Lemesos Municipality

,

Cyprus