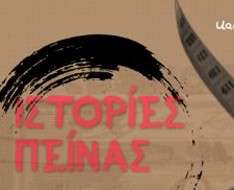 The theatrical group "Cassandras" presents a Spanish comedy by Ignacio del Moral and Margarita Sanchez, translated by Maria Chatziemmanouil, Historias Paralelas.
The play is about the stories of several women who are constantly trying to lose weight in order to fit the profile adhered to them by our society that wants women to be thin and submissive.

Director: Petros Charalambous
Video Preparation: Annie Vasiliou
Music: Andria Souroulla Theodorou
Stage Aide: Constantinos Frixou
Make-up: Elena Vasiliou, Katerina Zakcheou
Graphics/ Photographs: Axel Savvides

Actors: Mara Socratous, Irene Kyprianou, Elena Demetriou, Eva Michaelidou, Christos Kyriacou

Dates:
Sunday, 27 January 2019 (in the presence of the translator)
Friday, 15 February 2019
Sunday, 17 February 2019

Venue:
Satiriko Theater
Vladimiros Kafkarides Cultural Centre
11 - 15 Vladimiros Kafkarides Street
Αglantzia, Lefkosia 2102, Cyprus
Phone: +357 22 312 940
Website: www.satiriko.com

Tickets: €12
Tickets at www.tickethour.com.cy and ACS Couriers

All shows begin at 19:30.

For more information call at +357 99 059 957.
Sunday, January 27, 2019, 19:30
To Sunday, February 17, 2019

Nicosia

/

Lefkosia Municipality

,

Cyprus