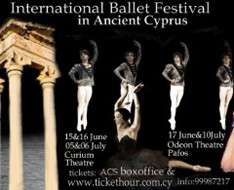 An International Ballet Festival is taking place in Cyprus this summer, for the first time, with leading dancers from Russia, Italy and Ukraine as well as artistic gymnasts from Cyprus. The program of the festival includes famous old classical ballet as well as contemporary ballet, with performances in Kourion Ancient Theatre in Lemesos district and in Pafos Odeon in Pafos.

Venue in Pafos:
Pafos Ancient Odeon
Kato Pafos,Cyprus

Dates: 17/06/2019, 10/07/2019

All ballet performances start at 21:00

Tickets: €25 / €15 / €5
Tickets online at www.tickethour.com.cy and at all ACS Courier.
Tickets can also could be purchased at the box office of the theater on the day of the performance.
Special price for children under 14, only 5 euro
Special price for pensioners, only 15 euro

For further information and reservations call: +357 99 987 217.

Monday, June 17, 2019, 21:00
To Wednesday, July 10, 2019

Paphos

/

Pafos Municipality

,

Cyprus