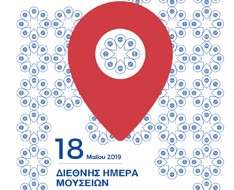 The Department of Antiquities, Ministry of Transport, Communications and Works and the Cyprus National Committee of the International Council of Museums (ICOM), announce that, within the framework of International Museum Day, 2019 (18th May), under the theme "Museums as Cultural Hubs, the Future of Tradition", and the European Night of Museums (18-19th May 2019), numerous events will be organized, most with free entrance.

For the programme of Events Celebrating the International Museun Day and the European Night of Museums, 2019 please click here

The public can also download the program of events from the Department of Antiquities' website (www.mcw.gov.cy/da), as well as from the websites of the participating museums. The events will also be promoted on the social media of the museums.

The objective of International Museum Day is to raise awareness of the fact that Museums are an important means of cultural exchange, enrichment of cultures and development of mutual understanding, cooperation and peace among peoples. The role of museums in society is changing. Museums keep reinventing themselves in their quest to become more interactive, audience focused, community oriented, flexible, adaptable and mobile. They have become cultural hubs, functioning as platforms where creativity combines with knowledge and where visitors can also co-create, share and interact.
While preserving their primary missions – collecting, conservation, communication, research, exhibition – museums have transformed their practices to remain closer to the communities they serve. Today they look for innovative ways to tackle contemporary social issues and conflict. By acting locally, museums can also advocate and mitigate global problems, striving to meet the challenges of today's society proactively. As institutions at the heart of society, museums have the power to establish dialogue between cultures, to build bridges for a peaceful world and to define a sustainable future.
Organised on and around the 18th of May each year, International Museum Day celebrations can last a day, a weekend, a week or an entire month. Participation in International Museum Day is growing internationally. In 2018, more than 36,000 Museums participated in the celebrations, in around 157 countries. In Cyprus, this year's programme includes events organized in 26 Museums and other cultural institutions, from the 8th of May to the 30th June 2019.
From Wednesday, May 08, 2019
To Sunday, June 30, 2019