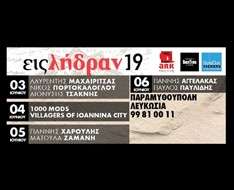 A four-day event in Lefkosia, in the area of ​​Paramithoupoli, with some of the most famous names of the Greek music scene.

Facebook

Location:
Paramithoupoli
Lefkosia, Cyprus

Programme:

First day of the Festival
Concert by Lavrentis Macheritsas, with Nikos Portokaloglou and Dionysis Tsaknis

Second day of the Festival
Concert by The Villagers of Ioannina and the 1000 MODS .

Third day of the Festival
Giannis Haroulis will be on stage with Matoula Zamani.

Fourth and last day of the Festival
The evening (and the stage) will be shared by two imposing figures of Greek rock. Yiannis Angelakas with Pavlos Pavlidis.

Monday, June 03, 2019, 19:00

Nicosia

/

Lefkosia Municipality

,

Cyprus