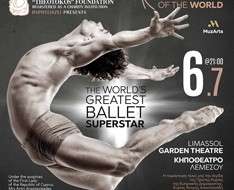 The world's greatest ballet superstar Ivan Vasiliev with Bolshoi Ballet Principal Dancers Anna Nikulina, Denis Rodkin, Maria Vinogradova, Denis Savin and Artists of the Bolshoi at the Limassol Municipal Gardens Theatre.

Venue:
Lemesos Municipal Gardens Theatre
Lord Byron Street
Lemesos 3105, Cyprus

Tickets: 25 Euro, 30 Euro, 40 Euro, 50 Euro & 20 Euro (kids)

Info -Tickets - Pre-sale:
Website: www.tickethour.com.cy
Phone: 7777 7040
and at all shops ACS courier
Limassol Gardens Theatre
+357 25 582 268 (16:00-19:00)
Irinis 158 Box Office
+357 25 878 744

https://www.facebook.com/Theotokos-Foundation-289313024417270/
www.psproductions.com.cy
www.facebook.com/papadopoulos.schinis.productions/

He is being called "the new Nureyev"; Ivan Vasiliev http://www.ivasiliev.com, one of the world's leading dancers, comes to Cyprus for what will undoubtedly be this summer's greatest cultural event!
Every appearance he makes is considered a major event; his schedule is busier than any other artist's; his outstanding appearances with the legendary Bolshoi ballet with tickets rising up to 1,000 Euro are sold out within just a few hours.
In Cyprus he will be accompanied by 12 Bolshoi soloists, his steady collaborators, and together they will perform a mesmerising show that will capture the hearts of those lucky enough to be at the Limassol Municipal Gardens Theatre on July 6, at 9pm. Maria VINOGRADOVA, Anna NIKULINA, Denis SAVIN, Denis RODKIN and Erick SWOLKIN are just a few among the famous soloists.

This great event is organised by the "Theotokos Foundation" and is the first of a series of events culminating in 2019 for the celebration of 50 years since the establishment of the foundation.

The performance is under the auspices of the wife of the President of the Republic, Mrs. Andri Anastasiades.
Ticket presale has already started at "158 Irinis str. Box Office", online at Tickethour.com.cy and at the Limassol Municipal Gardens Theatre only during afternoon hours.
The show includes, among others, the wonderful complete ballet Love is everywhere to Igor Stravinsky's music choreographed by Vasiliev himself, a work that received rave reviews both for Vasiliev's choreography and performance. Set pieces from Scheherazade, Le Corsaire, Don Quixote along with other stunning pieces from other ballets, both from the classical repertoire and from some contemporary works that have already made an impact when presented in the greatest ballet companies worldwide. The big surprise of the evening by the "new Nureyev", Ivan Vasiliev, will be his new choreography; a ballet composition to Queen's legendary song performed by the great Freddie Mercury, I want to break free, which captivates the audience every time it is presented.
Friday, July 06, 2018, 21:00

Limassol

/

Lemesos Municipality

,

Cyprus