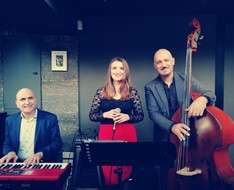 A music evening dedicated to jazz songs from famous Broadway shows and movies, performed by Olga Ksanthopoulou on vocals, Marios Toumbas on piano and Michael Messios on double bass, at Technopolis 20, on Sunday, 10th of February at 19:00.

Venue:
Technopolis 20 Cultural Centre
18 Nikolaou Nikolaidi Avenue
Pafos 8010, Cyprus
Phone: 7000 2420
Website: www.technopolis20.com

Entrance: €10
Reservations are necessary at 7000 2420.

Enjoy songs such as "Chicago (1975)", "New York, New York (1977)", "Girl Crazy (1930)", "The Pink Panther (1963)" and more. "All that Jazz", "New York, New York" by John Kander and Fred Ebb, "I Got Rhythm" by George & Ira Gershwin, "Meglio Stasera" by Henry Mancini and Franco Migliacci, are some of the songs that will be heard on this beautiful evening through an old times musical journey.

A few words about the musicians:
Olga Ksanthopoulou received her first Diploma in music performance at the age of 16 in 2003 from the "Contemporary Conservatory of Athens" with distinction and 2nd Award. During that time she participated in numerous pop bands as lead and backing vocalist as well as piano/keyboard accompanist. On moving to Cyprus in 2010 she continued to be involved in both performing and organizing concerts and has been active in numerous jazz combos with some of the jazz experts. Some of the latest are "The Greek Jazz Project" and "Marios Toumbas Trio". In 2016 she received her Bachelor Degree with Distinction from the University of Nicosia in Classical Piano and Jazz Vocal Performance and as the top graduate was awarded the prestigious 'Mary Ioannou Award'. She is a vocal and piano instructor at the Musicopolis Music School and the Music Academy of the Falcon School in Nicosia.

Jazz pianist Marios Toumbas has a Bachelor of Music, Cum Laude, in Music Synthesis (Berklee College of Music, Boston Massachusetts) and a Master of Music with Honors in Jazz Studies (New England Conservatory of music, Boston Massachusetts). He was a student of internationally renowned jazz educator Charlie Banacos and famous jazz pianist Danilo Perez. He has performed all over the world with famous jazz musicians such as electric bassist Anthony Jackson, saxophonist Tony Lakatos and guitarists Jeff Richmond and Brett Garsed. He has also performed at international Jazz Festivals such as the Montreal Jazz Festival in Canada and the Dusseldorf Jazz Rally in Germany. Concert venues include the Royal Festival Hall in London, the Sun City Music Hall in Johannesburg and Megaron Mousikis in Athens, Greece. He has been an instructor of jazz music at European University Cyprus since 2009. He is also a teacher of the international Association Jazz Education Abroad which teaches Jazz all over the world.

Michael Messios attended the Berklee College of Music in Boston MA with a scholarship. He studied music composition, and jazz performance. His return in Cyprus finds him busy in the music industry as a member in various ensembles in Poland, the Kuwait Jazz Festival, Mitrovica Jazz Festival in Serbia, the Crete Jazz Festival, the Dusseldorf Jazz Rally and played in prestigious jazz clubs like the VORTEX in London, Bb Jazz Club in Berlin, Altes Fenhouse in Koln and many more. In 2013 he forms his own band. The Symmetry Band performs Michael Messios' compositions, influenced by Contemporary and traditional Jazz. Michalis is an endorsed artist of the famous music instrument company ''ASHDOWN AMPS''.
Sunday, February 10, 2019, 10:00

Paphos

/

Pafos Municipality

,

Cyprus