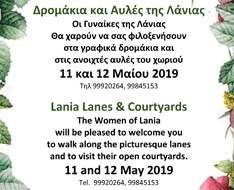 Located in the Lemesos district, the small, traditional village of Lania sits in an altitude of 570 metres on the Troodos mountain range, just 25 km from Lemesos town. The village can be reached by following B8 road.

Lania is one of the grape cultivating villages of the island. Whilst its residents were mainly employed in the cultivation of vines - and the production of wines, Zivania (spirit) and Soutzoukos (grape sweet) in older times - due to urbanization, there are now only a few harvesters and grape producers left.

The women of the village open their yards to welcome visitors to their houses in the 'Lanes and Courtyards of Lania' event.
Walk along the picturesque lanes and visit their open courtyards.

Interesting sights include the old wine press, the Commandaria Storage Museum, and an old olive press. The church of Panagia Valana is located in the centre of the village, whilst the chapel of Panagia Valana can be found just outside the village, near a small picnic area and a park.

Location:
Lania Village
Lemesos District
Troodos Mountains, Cyprus

During the weekend, you can also visit:
Olive mill, wine press, shoemaker's museum, Commandaria museum, painters' galleries, handmade jewellery workshop, library, tavernas/restaurants, coffee shops, museum shop, charity stall, herbal cosmetics.

Information: +357 99 920 264, +357 99 845 153.
From Saturday, May 11, 2019
To Sunday, May 12, 2019

Limassol

/

Laneia

,

Cyprus