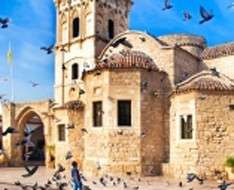 Larnaka; birthplace of the philosopher Zeno, founder of the Stoic School, and second home of Saint Lazarus who was ordained as the first Bishop of Kition after his resurrection. For the lovers of long walks this is a fascinating insight into the history, culture, traditions, and architecture of this sea--front city.

Every Wednesday
"Larnaka – Past and Present" Walk
This walk covers the history of Larnaka and its development by focusing on the role that the sea had throughout the centuries.

Language: English
Starting point: CTO Information Office (Vasileos Pavlou Square, T. +357 24 654 322)
Time: 10:00

Every Friday
"Scala – Its Craftsmen" Walk
Scala is the area that surrounds Larnaka Fort and Agios Lazaros Church. The aim of this walk is to explore the area and visit the Handicraft Workshops created by young ceramic artists most of who are inspired by ancient Cypriot art. The Walk goes through picturesque streets of the Turkish sector of Larnaka, where visitors have the chance to see traditional white washed houses, houses with kiosks and the present use of this residential area.

Starting point:
Larnaka Fort (in front of the entrance of the Medieval Museum).
Time: 10:00

Cost: Gratis.

Offered by the Larnaka Municipality and organised in collaboration with the Cyprus Tourism Organisation and the Cyprus Tourist Guides Association.
Booking in advance is necessary.

For further information and bookings please contact T. +357 24 654 322.

Walks are held also on public holidays.

From Monday, October 01, 2018
To Monday, December 31, 2018

Larnaca

/

Larnaka Municipality

,

Cyprus