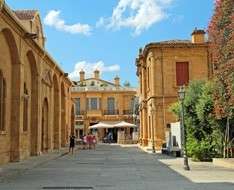 Open Air Fruit & Vegetable Markets
EVERY WEDNESDAY & SATURDAY: "OCHI" Square within the Venetian walls of old Lefkosia city.
EVERY FRIDAY: Industrial area of Strovolos Municipality (near the traffic lights).

Every Saturday & Sunday
Flea Market of Lefkosia
The first indoor flea market in Lefkosia where one can find new and used books, toys, art crafts, furniture, household items, electronics, appliances, clothes, collectibles and antiques, as well as a coffee shop
Venue: Flea Market (2, Ioanni Koromia Str., CY-1028 Kaimakli, T. +357 22 432 478)

EVERY TUESDAY AND FRIDAY
Free Guided Tours at the Cyprus Museum
The tours are contacted with licensed tourist guides and are free of charge!
Starting Point: Cyprus Museum entrance
Starting time: 11:00 – 12:30
Information│Reservations: +357 22889600
Note: Museum Fees apply (€4,50). No tours are
held on public holidays.

EVERY MONDAY & THURSDAY
LEFKOSIA (NICOSIA) WALKS
Get to know the capital by walking
The Lefkosia Municipality established a series of thematic walking tours to present various aspects of the old city as well as the city outside the walls. Lefkosia, a city with 5,000 yearlong history, has much to offer. By walking, one gets a better feel for a place and its yearlong atmosphere, past and present, and a better understanding of its continual cultural development.

EVERY MONDAY
Pallouriotissa & Kaimakli: The Past Restored
Guided walking & bus tour.
The Walking Tour leads you to the most noteworthy
sights in 'Pallouriotisa' and 'Kaimakli', two old villages at the outskirts of the Venetian Walls. As Lefkosia grew and expanded these villages gradually became historic districts of the city.

EVERY WEDNESDAY
Lefkosia Outside the Venetian Walls; It's Past
and Present
Get to know the capital of the island! Its history,
architecture, everyday living. It is a city build within
walls, but also one that spreads out as far as one
can see. It is a city with long history, but yet again
it is a modern one. Neo-classical mansions and
colonial buildings blend in with modern residential
areas. Explore the cultural standing and its spiritual
freedom of this city that has it all! EVERY THURSDAY
Discover the old Nicosia and its walls
Guided walking tour.
Lefkosia, the only divided capital in the world, dates back to the Bronze Age. In antiquity and in early Christian times it was known as Ledra. It has been the capital of Cyprus since the Late Byzantine period (11th century). The Lusignans transformed it into a splendid city, with royal palaces and churches. The city centre, the old "Chora", surrounded by 16th century Venetian Walls, with museums, old churches and medieval buildings, maintains the leisurely atmosphere of yesteryear.
Language: English
Starting point: CTO Information Office in Laiki
Geitonia, within the Venetian walls of old Nicosia city (11, Aristokyprou str., CY-1011)
Time: 10:00
Cost: Gratis. Offered by the Lefkosia (Nicosia) Municipality and organised in collaboration with the Cyprus Tourism Organisation and the Cyprus Tourist Guides Association.
For further information and bookings please contact T. +357 22674264. NO Walks held on public holidays.
From Monday, October 01, 2018
To Monday, December 31, 2018

Nicosia

/

Lefkosia Municipality

,

Cyprus