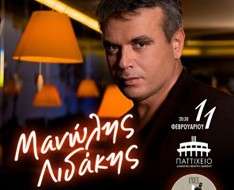 After several years, this great performer returns to Cyprus for a revealing "Recital", in a repertoire of his own personal successes and great songs by the Greek Classical composers.

He is accompanied by Kostas Halloumas in the bass and Vassos Argyridis on the piano and artistic direction.

Vemue:
Pattihio MunicipalTheater
Agias Zonis 6
Lemesos 3027, Cyprus
Phone: +357 25 377 277
Website: www.pattihio.com.cy

Tickets: 20 Euro (Orchestra), 15 Euro (Balcony)
Tickets available at www.SoldoutTickets.com.cy and at the box office of the theater.

Sunday, February 11, 2018, 20:30

Limassol

/

Lemesos Municipality

,

Cyprus