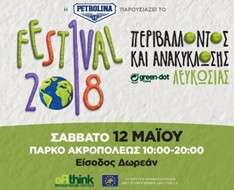 Green Dot Cyprus is organizing also this year for the eighth consecutive time, the "Environment and Recycling Festival". The festival will be held on Saturday, May 12, 2018, from 10:00 am. until 8:00 pm at the Acropolis Park in Strovolos.

The festival this year aims to highlight how recycling contributes positively to protecting the environment and improving the quality of life and health. At the same time, it will highlight the need for everyone to shape a character hat respects the environment. For this reason, the festival will include a special program "Ez Zin" with activities for healthy eating and sports for the young and the elderly.

There will be stands from various Organizations that the public will be able to visit and get informed about a variety of environmental issues.

Space games will also be set up to give children the opportunity to learn about the environment and recycle while playing, while being entertained by jugglers and clowns.

Location:
Akropolis Park
Pentelis Street,
Strovolos,
Lefkosia, Cyprus

Facebook

The entrance of the Festival and all games will be free of charge.
Saturday, May 12, 2018, 10:00 - 20:00

Nicosia

/

Strovolos

,

Cyprus