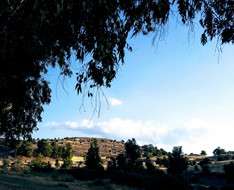 Locating cultural crossroads on the edge of the Cypriot mountains.
A team of artists under the artistic direction of Elena Christodoulidou (Amfidromo Chorotheatro).Participants in a free process locating and highlighting points of universal cultural interest on the outskirts of the Cyprus mountains.
The imaginary triangle with peaks of Koili -Paphos, Tris Elies -Limassol and Pera Orinis-Lefkosia define the common place of a cultural search that claims to highlight not only what unites the three selected locations with each other but also each one of them with the whole world.
Α journey close to nightfall exploring the sites.
Venue:  
1.  Kili Paphos/Regional Educational Centre of agricultural occupations    
 Date:
28.8.2021
2.  Tris Elies- Tris Elies point  Limassol      
Date:
29.8.2021
3.  Pera Orinis- Cultural centre / Lefkosia         
Date:
 5.9.2021
Start date/End date:  
28.8 - 5.9.2021
Start time/End time:  
18:30-19:45
Entrance Price/Τicket: 
FREE
The performances are travelling, audience should wear comfortable shoes and clothes. 
Website: 
www.egomio.eu/amfidromo
Social Media Channels of Event and/or of Event Organiser
(e.g. Facebook, Instagram etc.):FB 
Amfidromo Chorotheatro Elena Christodoulidou /Instagram Amfidromo Chorotheatro      
More info about Amfidromo Chorotheatro click
here
LOCATION
LEFKOSIA, LEMESOS, PAFOS