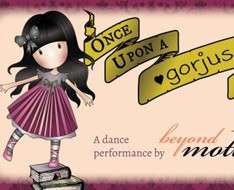 On a cold, gloomy day, Gorjuss stays warm and cozy inside with a book of fairy tales, musing about all kinds of adventures. 
There may be a storm outside, but inside her attic all is calm, Gorjuss is tucked up snuggly reading her favourite book...! She spends the day contemplating the themes of the most classic tales... suddenly as she is reading the main characters begin to come to life.. 
Little Red Riding Hood venturing out in the forest... Little Mermaid and her underwater kingdom... Snow White and the wicked queen jealous of her beauty... Alice taking on the queen of Hearts...
Books can take you into magical.. wonderful worlds...!!!
Artistic Director: Georgina Pitta
By Beyond Motion
Venue:
Rialto Theatre
Andrea Drousioti 19
Platia Iroon
Lemesos 3603, Cyprus
Phone: 7777 7745
Tickets: €12/ 10 (under 12)
Wednesday, July 10, 2019, 20:00