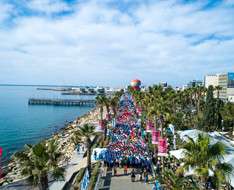 The  OPAP Limassol Marathon expects to host thousands of runners from Cyprus and abroad on March 18 and 19, 2023. It has an intense race program with 6 different routes, suitable for all ages and performances.
 
On Saturday, March 18, the Primetel 5KM Corporate Road will be held, which gives the opportunity to teams and companies from all over Cyprus to test their limits. On the same day, hundreds of children look forward to participating in the Andrey & Julia Dashin's Foundation Youth Race 1KM. On Sunday, March 19, the individual races of the event will be held, which will test the endurance of the runners and attract high-level athletes from all over the world. In addition to the 42km OPAP Marathon Road, the Muskita Half Marathon 21km, the Petrolina 10km Energy Race and the Medochemie 5km City Race are held.
The social contribution of OPAP Limassol Marathon, is remarkable, as since 2018 more than 40 charitable organizations have been supported with more than 90 thousand euros.

Venue:
Name:  Molos Promenade, Limassol  
Postal address: Molos Promenade, Limassol
Phone number:  +357 25 880 100
Website: www.limassolmarathon.com
Social media: 
FB:
https://www.facebook.com/limassolmarathon?ref=hl
IG:
https://www.instagram.com/limassolmarathon/
Twitter:
https://twitter.com/runlimassol
Youtube:
https://www.youtube.com/user/CyprusMarathon
Start date/End date:   
18-19 March 2023  
Start time/End time:
7:30  
Entrance Price/Τicket:
  Participation fee varies depending on race. Free audience attendance.              
LOCATION
LEMESOS
LIMASSOL MUNICIPALITY
Limassol

/

Limassol Municipality

,

Cyprus