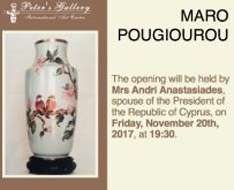 Peter's Gallery cordially invites you to a painting and porcelain exhibition by Maro Pougiourou.

Venue:
Peter's Gallery
Ioannou Polemi 31,
Lemesos 3085, Cyprus
Phone:+357 25 384 804
Website: www.petersgallery.com.cy

About the artist:
Mrs. Maro A. Pougiourou always had artistic tendencies, but because of her many occupations as the wife of the Mayor of Ammochostos, for a long time she did not have time to paint, a technique that was of particular interest to her.

When she was displaced in Lemesos after the Turkish invasion, she felt the need to paint and, with the help and guidance of the well-known colleague of the painter, Mrs. Ioulia P. Tsymazi, began painting paintings, clay pots etc.

When she moved to Geneva, along with her husband, who was appointed Ambassador of Cyprus to the United Nations in Geneva, she immediately began painting lessons and porcelain painting lessons at SCHULTZ School in Geneva under the guidance of the famous Porcelain Professor of Porcelain Painting at the University of Geneva MADAME ROSSET. She continued her lessons for five years in Geneva and then went to Strasbourg where she continued her studies. This time under the guidance of the professor of porcelain painting at the University of Strasbourg Mrs MARSAUDON. She also continued her studies of painting in Strasbourg at the art school run by the French professor of painting JEAN CLAUDE LORBER for another three years.

Ms. Pogyurou took part in group exhibitions of paintings and porcelain in both Geneva and Strasbourg, and her talent has been particularly appreciated.
From Friday, October 20, 2017
To Saturday, November 04, 2017

Limassol

/

Lemesos Municipality

,

Cyprus
Cultural / Art Exhibition