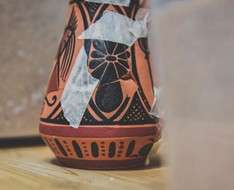 Our whole world "In a moment"

Photographic exhibition by Kyriakos Christodoulides subtly traces the best moments of the Bank of Cyprus Cultural Foundation

Venue:
Bank of Cyprus Cultural Foundation
86-88-90 Phaneromenis street
P.O.Box 21995
1515 Lefkosia, Cyprus
Tel: +357 22 128 157
Fax: +357 22 662 898
Website: www.boccf.org

Free admission

Opening hours: Monday - Sunday 10:00-19:00

An entire year's events, one photographer, 27 snapshots, an infinity of emotions, one exhibition.

The Bank of Cyprus Cultural Foundation hosts an exhibition highlighting smiles, emotion, enthusiasm, joy… every culturally prompted sensation that may be caught on camera.

An exhibition tracing the best moments of the BOCCF through the photographic lens of Kyriakos Christodoulides. A host of images replete with emotions!

On what criteria do we assess a photograph? How do we decide whether a portrait is right or wrong? "I personally believe there's no right-wrong binary in art", Kyriakos Christodoulides points out. "There are different approaches and aesthetics. I do not belong to the category of creators that believe photography should adhere to specific rules. For me, a good picture is that which has grasped the feeling of the moment".

Crafting his own identity in the course of his collaboration with the Bank of Cyprus Cultural Foundation, Kyriakos Christodoulides has had the opportunity to engage closely with exhibitions, tours and children animators by way of arts and specific techniques. "Capturing" reactions and displaying the emotions of people in digital form, he has succeeded in allocating moments to a well-deserved place in our memories.

Through his own identity and style, Kyriakos Christodoulides has identified himself with every guest, connecting with them in order to illustrate the sincerest, strongest and most substantive feelings.
From Monday, April 16, 2018 -  10:00
To Sunday, September 30, 2018 - 19:00

Nicosia

/

Lefkosia Municipality

,

Cyprus
Cultural / Art Exhibition