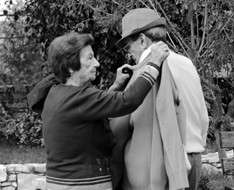 By the Pafos Youth Centers.

Pafos Youth Centers, members of the Cyprus Organisation of Youth Centers, invite you to the photography exhibition entitled "Young and Tradition", which will take place at Technopolis 20 and will open on Friday, 19th of January 2018, at 19:30.

Venue:
Technopolis 20 Cultural Centre
18 Nikolaou Nikolaidi Avenue
Pafos 8010, Cyprus
Phone: 7000 2420
Website: www.technopolis20.com

The opening of the exhibition will take place by the Pafos District Officer, Mary Lambrou, on Friday, 19th of January 2018 at 19:30.
A reception will follow.

Duration: 19 - 26 January 2018

Opening hours: Saturday, 17:00 – 19:00 & Monday – Friday, 10:00 – 13:00

The exhibition is the result of a series of guided tours made by volunteers, members of the youth centers of Tsada, Konia, Salamiou, Kouklia, Panagia and Statos - Agios Photios. Each youth center, from the 6 centers taking part, undertook a host-guided tour in their village.

The guided tour took place at the most important cultural or historical points of each village and at sight locations, while at the same time there was a photographic recording of persons and spaces from each village.

The action 'Photographing the villages of Paphos, Meeting the tradition' was set as a target challenge for young people in Paphos. The idea arose because volunteers felt the need to create cooperative and mutual support bonds among them, but also to participate in the culture of Cyprus, experiencing each one of them the hospitality in different villages of Cyprus and knowing the cultural landscape that the volunteers of the youth centers come from.

From Friday, January 19, 2018
To Friday, January 26, 2018

Paphos

/

Pafos Municipality

,

Cyprus
Cultural / Art Exhibition