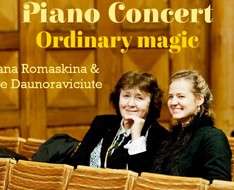 The exquisite Ukrainian piano soloist and concertmaster Tatjana Romashkina comes in Cyprus to meet one of her students, Adele Daunoraviciute that has been awarded five times by the president of Lithuania for her music achievements, at Technopolis 20, on Saturday, 27th of October 2018, at 19:00.

Venue:
Technopolis 20 Cultural Centre
18 Nikolaou Nikolaidi Avenue
Pafos 8010, Cyprus
Phone: 7000 2420
Website: www.technopolis20.com

Entrance: 10 Euro / 7 Euro (students)
Reservations are necessary at 7000 2420.

The piano duet will perform a repertoire from different epochs and genres, both solo and four-hands works. The audience will have the opportunity to discover and connect with music close to their heart and soul and enjoy first-class musicians in one performance. The programme will include works by W.A. Mozart, F. Schubert, F. Chopin, C. Saint-Saens, M. Ravel, A. Scriabin and S. Rachmaninoff.

A few words about the pianists
Tatjana Romaskina (maiden name Svobodina) was born in Mariupol, Ukraine. Having graduated from the Moscow Gnesin Music academy and having attained the qualifications of a soloist, a teacher, a chamber orchestra pianist as well as a concertmaster Tatjana completed her post-graduate degree at the Moscow Tchaikovsky Conservatory in the classes of Professors Gutman and Milman. She then spent teaching music in Music Academies in Russia and the Ukraine. Since 1986 Tatjana has been teaching at the Lithuanian State Conservatory in Klaipeda where she became an Associate Professor in 1996 and a Professor in 2010. Since year 2000 she has been awarded a Music Expert status. In her career Professor Romaskina has performed recitals in Germany, Lithuania, Russia, the Ukraine, Denmark, Italy and other European countries as a soloist as well as a concertmaster. She plays concerts with world renowned chamber orchestras from Lithuania, Israel, the USA, Slovakia, Russia, the Ukraine and other countries. Tatjana has made approximately 40 recordings and released 4 CDs. She has passed her mastery to numerous students who these days perform at Carnegie Hall in New York, Yamaha Concert Hall in Vienna, Shuvalov Palace in Russia as well as various philarmonies in Lithuanian major cities and abroad. Today Tatjana continues teaching at the Conservatory and the music school, lives with her family in Klaipeda and gives master classes on a regular basis.

Adele Daunoraviciute was born in Klaipeda, Lithuania in 1991. She studied piano with Professor Tatjana Romashkina (Svobodina) at the Art Faculty of Klaipeda University. Adele holds a Bachelor's degree in Education with performing as a professional qualification. In 2016 she obtained a Master's of Music in Piano Performance. She participated in master classes with professors Petras Geniusas, Walter Groppenberger, Ksenia Knorre, Vladimir Slobodian and many others. Adele won numerous prizes from international piano competitions in Lithuania, Italy, Austria, Finland, France, Russia, Portugal and the United States. She is the recipient of five presidential awards for high achievements in music on the international arena, which were personally presented to her by the President of Lithuania Dalia Grybauskaite. Before moving to Cyprus, Adele worked in Klaipeda J. Karosas and Palanga S. Vainiūnas music schools as a piano teacher and accompanist.
Saturday, October 27, 2018, 19:00

Paphos

/

Pafos Municipality

,

Cyprus