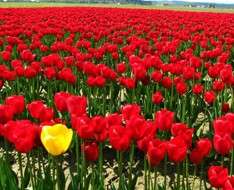 The Annual Polemi Tulip Festival is held each year in the beautiful village of Polemi in Pafos District.

The community has the privilege of being the only region in Cyprus, where the tulip grows.
The annual Tulip Festival will be held at the Youth Center Square of Polemi village, on Sunday, 1st of April.
Guests will have the opportunity to enjoy a rich artistic program, a tulip exhibition, and wonderful walks in the beautiful nature of the area.

Location:
Youth Center Square
Polemi village
Pafos Disttrict, Cyprus
Polemi lies 4 km north of Letymbou and 3 km east of Stroumbi, off the main B7 Paphos to Polis (Polis Chrysochous) road.
Sunday, April 01, 2018, 11:30