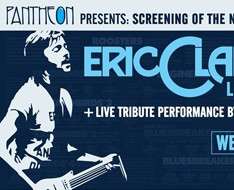 Tribute to Eric Clapton: Screening & LIVE Performance.

On Wednesday 28 March, Pantheon is excited to be hosting the Screening of the wonderful new Documentary "Eric Clapton - Life In 12 Bars", followed by a unique LIVE Tribute Performance by The Zilla Project.

Venue:
Pantheon Theatre
29 Diagorou Street, CY-1097
Lefkosia, Cyprus
Phone: +357 22 675 787

Programme:
19:30: Screening of Documentary "Eric Clapton - Life In 12 Bars"
22:00: LIVE Tribute Performance by The Zilla Project

Tickets: 15 Euro
Limited capacity. PRE-SALE Tickets available (from 8th March) at
• www.soldoutticketbox.com
• Selected Kiosks "So Easy"
• Pantheon Theatre, Lefkosia

"Life In 12 Bars" Documentary Info:
www.altitudefilment.com/film/sales/41/eric-clapton-life-in-12-bars

ERIC CLAPTON
Eric Clapton, who turns 73 years old this year, is an 18-time Grammy Award winner, the only ever three-time-inductee to the Rock and Roll Hall of Fame, and widely renowned as one of the greatest Blues guitarists of all time.

With the words "CLAPTON IS GOD" graffitied all across London in the 1960s, Eric Clapton became the ultimate guitar hero and had an immense role in broader music and cultural history. In the annals of contemporary music over the last 50 years, no other artist has continually intersected with so many other great musicians across a broad stratum of musical genres - numerous of whom have inspired and informed his body of work.

But behind the scenes lay restlessness and tragedy. His insatiable search to grow his artistic voice left fans surprised as he constantly quit successful bands, from the YARDBIRDS to 1960's super-group CREAM. His isolated pursuit of his craft and fear of selling out served as a catalyst for his evolution as an artist. Stretching from his traumatic childhood to his long and difficult struggle with drugs and alcohol, and the tragic loss of his son in 1991, Eric Clapton always found an inner strength and healing in music.

Told through his own words and songs, as well as those of his family, friends, collaborators and many heroes including BB King, Jimi Hendrix and George Harrison, "Life in 12 Bars" is a moving, revealing and surprising film about one of the great artists of the modern era.

Wednesday, March 28, 2018, 19:30 - 23:45

Nicosia

/

Lefkosia Municipality

,

Cyprus