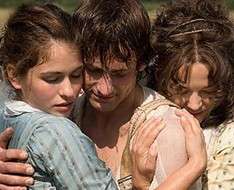 The Goethe-Institut Cyprus, within the framework of "Weeks of the German Language", presents the screening of the documentary film 'The Invisibles-we want to live', on Thursday, 22nd of November 2018, at Technopolis 20, starting at 18:30.

Venue:
Technopolis 20 Cultural Centre
18 Nikolaou Nikolaidi Avenue
Pafos 8010, Cyprus
Phone: 7000 2420
Website: www.technopolis20.com

Free Entrance

The in-part documentary feature film deals with the concealment of Jewish refugees against the backdrop of the persecution of Jews in Berlin during the Second World War. The scenes, based on true events and the experiences of the four people who were the inspiration for the film characters, alternate with detailed interviews with the surviving witnesses. Four Jewish teenagers manage to become invisible during a time when the arrest of Jews in the capital Berlin is reaching its height. (Director: Claus Räfle, drama/ documentary/ historical, 110 min, 2017, in German with English subtitles)

The "Weeks of the German Language" (Wochen der deutschen Sprache / WddS) are organized by the Embassies of Germany, Austria, Switzerland, and the Goethe-Institut Cyprus. The main aim of these series of events, is not only to promote the German language, but to bring the people of Cyprus closer to the culture of the German speaking countries. The WddS will be offering a variety of exciting events from award-winning movies to concerts, high end musicians, literature, and exhibitions to tasting events in the cities of Lefkosia, Larnaka, Lemesos and Pafos.
Thursday, November 22, 2018, 18:30

Paphos

/

Pafos Municipality

,

Cyprus