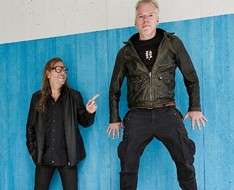 The Festival AglanJazz 2019 aims to showcase the best Cypriot musicians, alongside European and international artists, to promote awareness and appreciation for all forms of jazz. The Festival is committed to present a wide and varied line up. Bands will participate in the festival with authentic and original music.
Each show/concert should have a duration of 40-45 minutes

Location:
Aglantzia Old Square,
Aglantzia, Lefkosia, Cyprus

https://aglantzia.org.cy/aglanjazz-2019/

Vladyslav Sendecki is considered one of the most powerful and creative solo pianists in the European jazz scene. The Süddeutsche Zeitung praised him as a "master of emotion, creating poignant musical virtuosity". And the New York Village Voice made him one of the top five jazz pianists in the world. He is highly ranked among the great pianists of the last 100 years, with Herbie, Chick and Duke and Jarrett.

Vladislav Sendecki – piano
Jungen Spiegel – drums, percussions

For his part, Jürgen Spiegel has been a driving rhythmic force and sensitive sound painter in the world-famous Tingvall Trio for more than fifteen years. Now the two Hamburg-based musicians have met in an unusual piano/percussion constellation for an exciting project in the studio: Poetry meets Dynamics, virtuosity on fine dialogue, freedom on the exchange of emotions. A journey of sound that is difficult to avoid, and which naturally dissolves the boundaries between jazz, classical and world music.

Tuesday, July 02, 2019, 22:45

Nicosia

/

Aglantzia

,

Cyprus