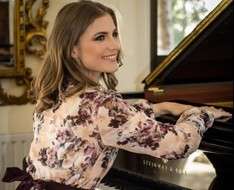 In recent years, Tatiana Stupak, founder of the Tatiana Stupak School of Music, and a laureate of international classical piano and organ competitions, has held a special charity concert in Lemesos to celebrate her birthday. Last year, she hired the Kourion Ancient Amphitheatre, for a spectacular show, before an amazed audience of 800.

This year, her birthday concert, with the co-operation of the Lemesos Municipality, will be held in the Open Air Theatre next to the municipal gardens.

Venue:
Limassol Open Air Theatre in the Municipal Gardens
Lemesos Municipal Gardens Theatre
Lord Byron Street
Lemesos 3105, Cyprus

Tickets: €25, €20, €15, (Children and pensioners €15) via www.tickethour.com.cy or at the Theatre Box Office from 16:00 daily.

You can also reserve tickets by calling 7777 7040 and paying later at the theatre box office.

Like last year, the programme will be varied, with not only classical music, but popular music too, ballet dancing, tango dancing and acrobatics. The presenter for the evening will be Julia Vertova from Russian Wave Radio.
The instrumentalists, apart from pianist Tatiana Stupak, will be the classical violinist Olivera Rialas from Belgrade, and some teachers from the Tatiana Stupak School of Music, who will play together as a band. Four of the best students from the Tatiana Stupak School of Music will also play piano and violin.
The solo singers, accompanied by Tatiana Stupak, will be the international soprano Ester Ustaeva from St Petersburg, the mezzo-soprano Tatiana Kokoreva, from Moscow, and the Russian mezzo-soprano Anastasia Maximova, who is now resident in Cyprus. Cyprus resident Alexander Lebedev will sing some classic songs, such as those made popular by Andy Williams, Frank Sinatra, Engelbert Humperdinck, Elvis Presley, Elton John and others.
Ballet dancers from Vania Vrondi's Russian Professional Art School, will dance, accompanied by Tatiana Stupak.
The music will be mostly well-known, with works from the classical, romantic and modern periods, including some popular 20th century songs. Composers will be Albinoni, Bizet, Brahms, Chopin, Elgar, Monti, Piazzolla, Prokofiev and others.

Net proceeds of the concert will be given to Europa Donna, a non-profit NGO breast cancer charity.
Please come along and support this worthy cause.

Thursday, June 13, 2019, 20:30

Limassol

/

Lemesos Municipality

,

Cyprus