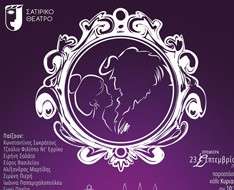 A castle. A curse. A magic rose. A girl different from all others. A beast who hides a prince deep inside. A story about beauty.Beauty and power of soul.

Venue:
Satiriko Theater
Vladimiros Kafkarides Cultural Centre
11 - 15 Vladimiros Kafkarides Street
Αglantzia, Lefkosia 2102, Cyprus
Phone: +357 22 312 940
Website: www.satiriko.com

Tickets: 10 Euro
https://www.soldoutticketbox.com/pentamorfikaitoteras/?lang=en
After your online purchase, please contact with the Theater at: +357 22 312 940 for booking your seat.

Regular shows every Suday morning at 10.30 till the end of January 2019.

Greek adaptation /Direction: Μarios Kakoullis
Shenery: Elena Terepei
Musical adjustment: Christos Hoplaros
Costumes: Andrianni Rousogenous
Choreography: Stavri Kalopetridou
Animation: Giorgos Alexandrou
Music teaching: Christina Argiri
Lighting: Vikentios Christianides

Distribution:
Irini Salata, Constantinos Sokratous, Julio Filippo d' Eriko, Evros Vasileiou, Simoni Pieri, Alexandros Martidis, Ioanna Papamichalopoulou, Maria Konstantinou, Christina Gavrielides, Michalis Kazakas,
Eleni Zanti, Gogo Pahiti

Once upon a time,in a magnificent castle of a far away land, there was a prince. Even though he had whatever his hurt desired, the prince was spoiled, egoist and cold hurted. A rainy winter night,an old lady begar,visited his castle asking him to host her for the night.To thank him,the begar offered him a red rose. Disgusted by her dreadful apearance, prince despiced her gift and told her to leave his castle. She then said, that he shouldn't judge people by their appearance,because true beauty lies within.
Prince ignored the old lady and drove her away.Then suddenly, the uglyness of the old lady disapeared and turned into a beautiful witch. Prince tried to justify himself.Fell to her feet and beged for her forgiveness,but the witch knew that there was no love in his hurt.Wanting to punish him for his arrogance, threw a heavy curse at his castle and turned him into an ugly and disgusting beast.
Ashamed for his behavior and his uglyness, the beast closed to himself and issolated in his castle with a magic mirror as the only window to the outside world. As for the rose the witch gave him..it was not a simple rose..but enchanted.The rose will remain bloomed until his first twentieth birthday. If the beast could manage to learn how to love others by winning their love, before the rose lost his last petal, the sorcery would be solved. If not, he would be doomed remaining beast for ever..
Days gone by...years gone by...and the beast felt into despare, loosing all hope, beacause anyway....who could love a beast?

Friday, November 23, 2018, 10:30
To Sunday, January 27, 2019

Nicosia

/

Aglantzia

,

Cyprus