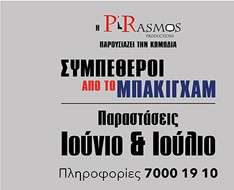 A comedy about the love affair of a nouveau-riche couple's daughter, the shocking meeting with the co-parents-in-law and the hilarious plot will guarantee lots of twists and a lot of laughter. Adaptation and Direction by Loris Loizides.

Venue:
KOURION ANCIENT THEATRE
Kourion Ancient Site
Kourion Ancient Theatre
Episkopi, Lemesos District, Cyprus

DROMOLAXIA AMPHITHEATER
Dimostheni Severi
Dromolaxia, Larnaka, Cyprus

SKALI AGLANTZIAS
15 Agiou Georgiou Str.
Aglantzia, Nicosia 2108, Cyprus

TALA AMPHITHEATRE
Tala Amphitheatre
Konstantinos Leventis Park
Tala, Pafos District, Cyprus

DERYNEIA AMPHITHEATRE
Famagusta, Cyprus

Tickets:€15
Website SoldOutTICKETS

Language: Greek

For more information please contact 7000 1910

Click here for show dates' list. 
Thursday, June 13, 2019, 21:00
To Wednesday, July 10, 2019