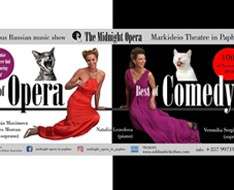 A solo concert of the famous Russian show "Midnight opera".

Venue:
Markideio Theatre
27 Andrea Geroudi
Pafos 8010, Cyprus
Phone: +357 26 932 571

Tickets: 15 Euro, 8 Euro (For Children)
www.soldoutticketbox.com

Event Language: English

OPERA IS IT BORING?

Opera Hooligans will break once and for all these patterns, and, believe me, you will sing with them on one stage, conduct an "orchestra", write a libretto and become THEIR MUSE! For 5 years the soloists of the show "Midnight Opera" break the stereotypes of "boring" opera, turning it into an incendiary show and present masterpieces of world classics in an easy joking manner, with an interaction, involving the spectators. Conquering all of Russia, and many European countries, Midnight Opera will present one of its programs in Cyprus.

Soloists - Anastasia Maksimova (mezzo soprano)
Veronica Sergienya (soprano)
Pianoforte - Natalia Lezedova

"We are called in different ways:" contact opera "," interactive opera "," operatic hooligans "," theater at arm's length ", - lists Anastasia .- One can probably call it a" music stand up ".
"The most pleasant review for us is always the same, we hear this phrase almost word for word in different cities, where we say:" We never thought that the opera could be like that! "Many people in their minds unfortunately have the stereotype of the "boring" opera genre, they would never go to the theater, and after our presentation, the attitude to the opera is fundamentally changing, which in principle is our mission!

Wednesday, October 10, 2018, 20:00

Paphos

/

Pafos Municipality

,

Cyprus