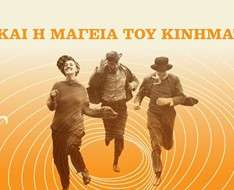 A presentation about the power and the magic of the moving image, will take place at APOTHIKI 79 on Friday 9 November at 19:30.

Venue:
Apothiki 79
81-83 saint Lazaros Street
6020 Larnaka, Cyprus

Facebook

Language: Greek
Duration: 60 minutes
Entrance: Free

More information and reservations at the following telephone numbers: +357 99 435 754 & +357 99 083 974.

The event is supported by the Cultural Services of the Ministry of Education and Culture.

The presentation will be made by the cinema historian and theorist Mr Doros Demetriou in the form of a lecture and will include slides with information, pictures and short extracts from films, documentaries and interviews.

The aim is to spread the cinema idea to its proper dimension, to the public. With an educational and at the same time entertaining way, very interesting elements will be presented, that highlight the power of cinema in many levels but also the charm of this important art form of our time. Special mention is also made to the Cyprus Cinema.

A discussion with questions and comments from attendees will follow.
Friday, November 09, 2018, 19:30

Larnaca

/

Larnaka Municipality

,

Cyprus