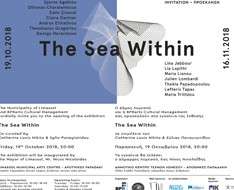 At the Limassol Municipal Arts Centre Apothikes Papadaki.

The Municipality of Lemesos (Limassol) in collaboration with BPRarts Cultural Management and the support of the Ministry of Education and Culture is presenting the exhibition The Sea Within at the Limassol Municipal Arts Centre, Apothikes Papadaki.
The exhibition will be co-curated by Catherine Louis Nikita and Sylia Panayiotidou and is organised with the support of the French Embassy and the French Institute of Cyprus.

Venue:
Limassol Municipal Arts Centre
Apothikes Papadaki
Papadakis Street
Lemesos, Cyprus
Phone: +357 25 656 701

The exhibition will be inaugurated on the 19th of October 2018 at 8 o'clock in the evening by the Mayor of Limassol, Mr Nicos Nicolaides.

Opening Hours: Tuesday – Friday 10:00 -18:00 / Saturday 10:00-13:00 / Monday and Sunday closed

Contact Number: +357 25 367 700

Main Sponsor: Cultural Services of the Ministry of Education and Culture
Media Sponsor: RIK

Participating artists:
Spyros Agathou, Othonas Charalambous, Emin Cizenel, Claire Dantzer, Andros Efstathiou, Theodoulos Gregoriou, George Herakleous, Lina Jabbour, Lia Lapithi, Maria Lianou, Julien Lombardi, Thekla Papadopoulou, Lefteris Tapas, Maria Trillidou.

The core theme of the exhibition is the Sea, partly focusing on the idea of the Pier, both acting as symbols beyond their physical substance. In visual arts, literature and poetry, Nature often represents human emotions, heroes' characters, esoteric philosophical debates. Nature is not only around us, but also deep within us, directly connecting the physical world with abstract and intangible concepts, such as our human consciousness.
The sea is paralleled with life, the wretchedness of the unconscious, the mind, the beginning, the end, the unknown; the pier being a manmade (un)breakable bond with the land, with security. A transitional point, a place outside our spacetime. This exhibition suggests that we meet in this other place. During transit, as in a pier, the visitor is invited to navigate in potential spaces between poetry, dream and illusion. Between earth, sky and sea. It is also called upon to question the permanence and sensitivity of the world and the status of the passage of our own existence.
The artworks presented aim at creating a visual map of experiences, views and feelings on this discussion. The exhibition aspires to act as a connecting cell between various artistic expressions (installation, painting, mixed media, photography), as well as between local and foreign artists, especially with the addition of artists from Marseilles, in the context of an artistic exchange between the Municipalities of Limassol and Marseilles.
Parallel to the exhibition at the Limassol Municipal Arts Centre Apothikes Papadaki, a photographic exhibition with the same theme will be presented at the seaside park of Molos by Angelina Demosthenous, George Pantazis and Alexandros Voskarides.
From Friday, October 19, 2018
To Monday, November 19, 2018

Limassol

/

Lemesos Municipality

,

Cyprus
Cultural / Art Exhibition