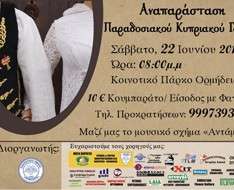 Ormideia Cultural Club will be launching its summer events on Saturday, the 22nd of June, with the Traditional Cypriot Wedding Reenactment. You will, thus, be given the opportunity to attend one of the most joyful occasions in Cypriot society.

You will be traveling back in time, while they will be reviving the pre-ceremony customs (e.g. stitching the couple's bed), the church rituals, and the post-ceremony customs (e.g. pinning money on the couple's clothing)

Venue:
Community Park - Ormideia,
Ormideia, Larnaka District, Cyprus

Information and Reservations:
Tel. no.: +357 99 973 931/ +357 99 926 325

Entrance: €10
It includes Cypriot food and Loukoumi(traditional sweet) tasting.  
Saturday, June 22, 2019, 20:00

Larnaca

/

Ormideia

,

Cyprus