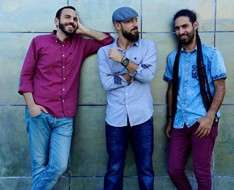 Jamie Paul (vocals & keyboard), Byron Athinodorou (bass & b' vocals), Lefteris Lefkatis (drums)

Venue:
Cultural Centre of Pegeia
Pafos, Cyprus

Free entrance

Trio Frisson is a three-member band from Cyprus presenting a 'Hip-Soul' sound - a blend of elements taken from Soul, Groove, Reggae & Hip Hop fused with their range of influences that also embrace World music, Jazz & RnB. Their debut album 'Great Escapes', released in December 2013, features 11 original songs and a host of guest musicians including trumpet, violin and guitar. In a bid to push their own work and to experiment, the band performs their original songs regularly, with their shows often featuring guests. They have appeared at some of the island's finest music & arts events including Cyprus Jazz & World Music Showcase, Afrobanana Festival, Fengaros Festival, Windcraft Festival, Farma Projekt, Moonwalk Festival, Museum Nights and Fete de la Musique. With a growing catalogue of original material to perform and strong ambitions for the coming season, Trio Frisson are currently finalising their second studio album

Jamie Paul (vocals & keyboard) is the songwriter of Trio Frisson and his diverse influence and vast experience can be heard in the depth of the material he creates. His experience as a lyricist can also be found in his original songs, which employ complex rhyming patterns, metaphor, philosophy and above all poetry. Since the age of 12, Jamie has been taking his own compositions to the stage. Working with Jazz ensembles and bands throughout his teenage years in his hometown of Sheffield, Jamie built up a varied experience of recording, writing and performing original music. Acid jazz quartet "The Tranceplants" provided a platform and an opportunity to work creatively with inspirational musicians. At the age of 17, Jamie was invited to work with Ujigami, an experience that opened a door into the thriving world of UK hip-hop, so by the age of 19 he added MC and producer to his list of accolades. Jamie then went to study at the Leeds College of Music, during which time he worked with the city's most talented musicians and producers. His more recent work demonstrates his diverse abilities – he has written and scored big band arrangements for the live tours of X-factor (Greece) and Greek Idol winners, through to featuring as a guest vocalist on the forthcoming album of UK Producer Huw (Rope-a-Dope Records).

Byron Athinodorou (bass & b' vocals) Born in Limassol in 1988, Byron Athinodorou has been playing Classical Guitar for nearly 20 years, as well as the Bass for the past 12 years. Other instruments include the Euphonium and Tenor Trombone, which he has practiced since the age of 12. Byron has a Masters in Music Composition from the University of York, UK, as well as a BA degree in Music Composition from the Ionian University in Corfu, Greece, where he also won a scholarship for 'Top Student of the Year'. For both his BA and MA studies he was awarded scholarships from the Cyprus State Scholarship Foundation. He received scholarships for both his undergraduate and postgraduate studies, from the Cyprus State Scholarships Foundation. Moreover, Byron managed to acquire his undergraduate degree within three years, instead of five as per the University's syllabus requirements. He was awarded, among others, First Place in the Panhellenic School Music Competition where he represented Cyprus in Athens. He has also participated in several festivals and events abroad, representing Cyprus in countries including England, Czech Republic, Greece, Turkey, Belgium, Germany, Poland and Hungary.

Lefteris Lefkatis (drums) has been keenly involved with drums and percussion instruments since the early age of 12, and has been a member of several music groups covering a variety of styles including jazz, soul, RnB. rock, world and pop. He studied drums and percussion at the Philippos Nakas Conservatory and the University of Nicosia with Elias Doumani and Rodos Panagiotou respectively. He is currently also a teacher of the respective instruments in Nicosia.

Directions: Head up the hill towards the centre of Pegeia and turn left into the large Municipal car park. Walk up the steps to the main road, turn left, passing the Town Hall on your left and at the top of the hill, at the T-junction, turn left and the Cultural Centre will be found straight across the road. Walk up the slope to the right of the Centre to reach the entrance.
Sunday, February 10, 2019, 18:00